Wizard wick hurricane lamps – 12 perfect ways to have a rustic experience regardless of your setting
Wizard wick hurricane lamps are a unique set of lamps. They are not just unique in terms of their design and functionality but also in regards to how they came to be.
A little history
Wizard wick hurricane lamps are the brainchild of a rather interesting American personality. Tom Cerny "Hippie Tom" who is famed for his appearance in the American Pickers reality TV show is the inventer of these type of lamps.
He and a friend came up with the first Wizard wick hurricane lamp some few years after leaving pottery classes in college. Tom, a Wisconsin native, says it was by chance that they came up with the lamp as they just happened to put a glass chimney over a ceramic lamp and thereafter saw how it all turned out.
This discovery came at an opportune time for the duo as they were out of jobs at that time and struggling to make it on their own.
Design
In terms of design, a Wizard wick hurricane lamp comprises of a ceramic base which also serves as the oil holder. A wick is fitted in through an opening at the top of the clay base to soak in oil and produce a flame upon being lit.
The ceramic base has a glass chimney sitting atop it to protect the flame from wind and other elements. There may also be other styling features on top of the chimney or it may just be left plain.
Wizard wick hurricane lamps also have the advantage of having wicks which can burn for a very long time. The wicks aren't consumed like in the case of other oil lamps.
You may only need to change the wick because of reasons such as age and not because it has become shorter or so.
Rustic experience
These kind of lamps are a perfect way to have a rustic experience regardless of your setting. A ceramic lamp that uses oil certainly serves to bring about a village or countryside feel.
For people of older generations, it can even remind you of a lamp your parents or grandparents would be using when you were young.
In addition, Wizard wick hurricane lamps burn brilliantly and are fuel savers. The lamps give a rich yellow glow which can adequately illuminate an average sized room.
The lamps also economise fuel, one filling of oil can last you for several weeks depending on how long you keep the lamp burning.
Choosing a Wizard wick hurricane lamp
Choosing a suitable Wizard wick hurricane lamp is quite easy. You only need to identify the design and style that appeals to you and thereafter ensure that the wick adjuster or any other key detail is working correctly.
Get to buy a Wizard wick hurricane lamp today and enjoy all that this unique type of lamp has to offer you.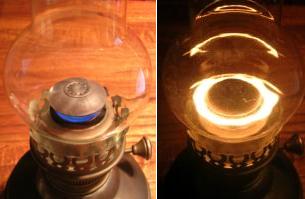 #1 Next Gen Gas Lamp
If you wish to add some stylish rustic interior decoration to your premise, this lamp could become an excellent choice. The gas lamps are considered somewhat obsolete, but at the same time they own a special romantic fleur about them. This model was slightly upgraded and utilizes an accumulator with energy saving led lights with a controlled brightness. In household it will be an excellent assistant of yours. It would also be a good idea to take it to some journey.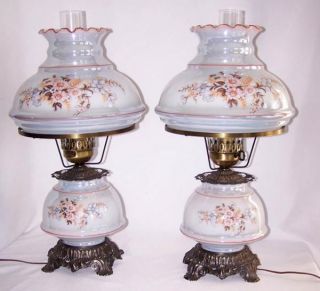 #2 Elegant Lady Wick Lamp
Here's a pretty looking country style wick lamp. The whole body is made of top quality porcelain that is capable to withstand high temperatures of the flame. On the surface of the body you can see a brilliant flower pattern that was created by means of an acrylic paint. The picture won't fade away with the flow of time. The glass heat transporter is also very durable and has got a special layer that makes cleaning easier than ever.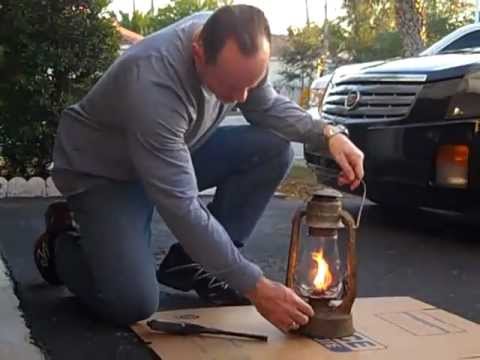 #3 Perfect Classic Rustic Lamp
Watching at the flame can be extremely mesmerizing scenery. The flame tongues which are licking the glass are amazing. This model introduces a series of attractive old-fashioned lamps which carry an air of rich history. The whole item is made of a glossy metal that is covered with a special bronze paint that will preserve the lamp in the best look.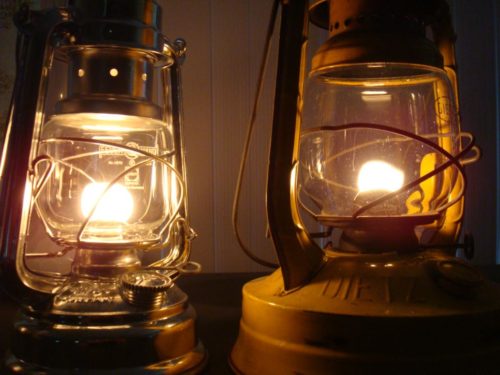 #4 Modified Retro Style
If you are passionate about gas lamps, but don't want to deal with gas and maintenance of the fuel system, you can look at this modified version of a retro lamp. The gas wick lamp has received a new life through this bright halogen lamp. It is capable of preserving a unique miner charm with the use of the newest light technologies. The accumulators offer a long time of work so it can be taken along everywhere.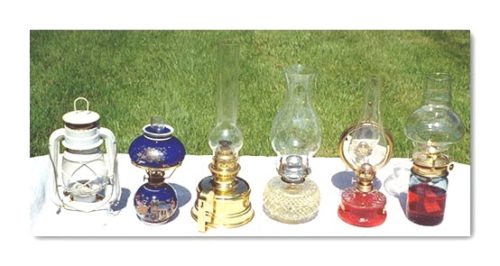 #5 A Set of Various Designs
Here you can see a wide variety of wick lamps so it would be really hard to select the lamps as all of the items look equally attractive and gorgeous. You should remember a very simple fact. The wick lamps are divided according to the size of kerosene container as it is responsible for the time it will offer you light. The second point is the shape of the heat transporter as it will deal with the fire and refract the light to make it brighter.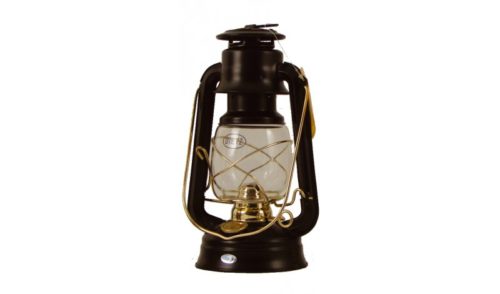 #6 Luxury Black Miner Lamp
This model distributes us a classic miner lamp that is characterized with massive durable construction that is made of forged steel and all other elements of the lamp are made of top quality material to be able to serve you for many years. The full container of fuel will grant you over 15 hours of light at an average level of burning. The best thing about this lamp is that all the parts are interchangeable.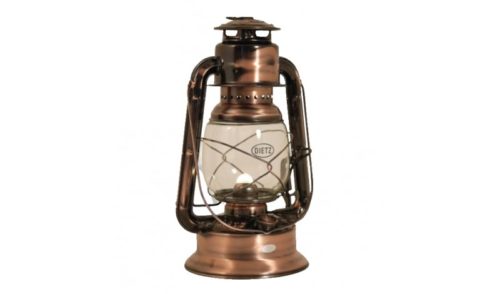 #7 Bronze Plated Massive Lamp
If you prefer the items that are made of bronze, this model will be a fine alternative in a wide variety of lamps on the market. The whole body is made of a galvanized metal and the color will be preserved for many years of active exploitation. The mechanism of this kerosene lamp offers an affective fuel control. So if the light goes out, it will grant you some light till electricity comes back.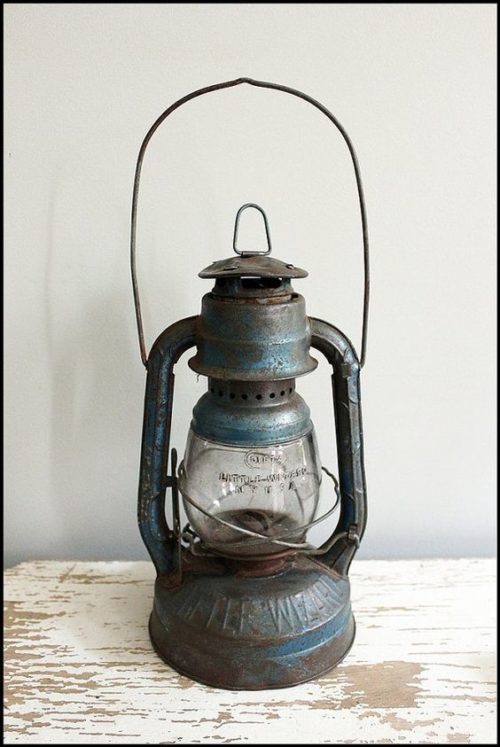 #8 Vintage Lamp from the Past
This rusty lamp is an awesome designer solution for a thematic pub. It was made with a specific oldering technology that generates an awesome retro effect. However, this item is not just for beauty as it's capable of generating an adequate portion of light if something happens to electricity. It can be also used as a romantic light for some date in half shadow.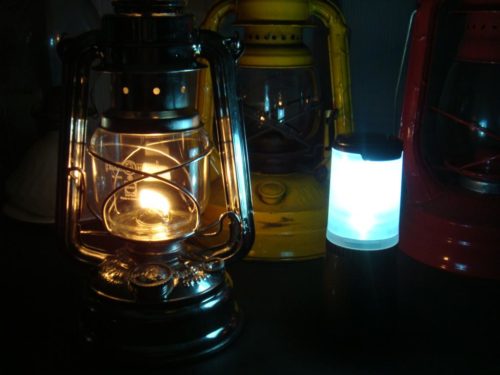 #9 Past and Future Meet
Here we can see a fine demonstration of two totally different lamps. One is a modern lamp with energy saving blue led light while other is a classic miner lamp that has been transformed into a model with batteries. Each option is capable of providing a decent amount of light. It depends on the person's interior which lamp should be selected for decorating of the room.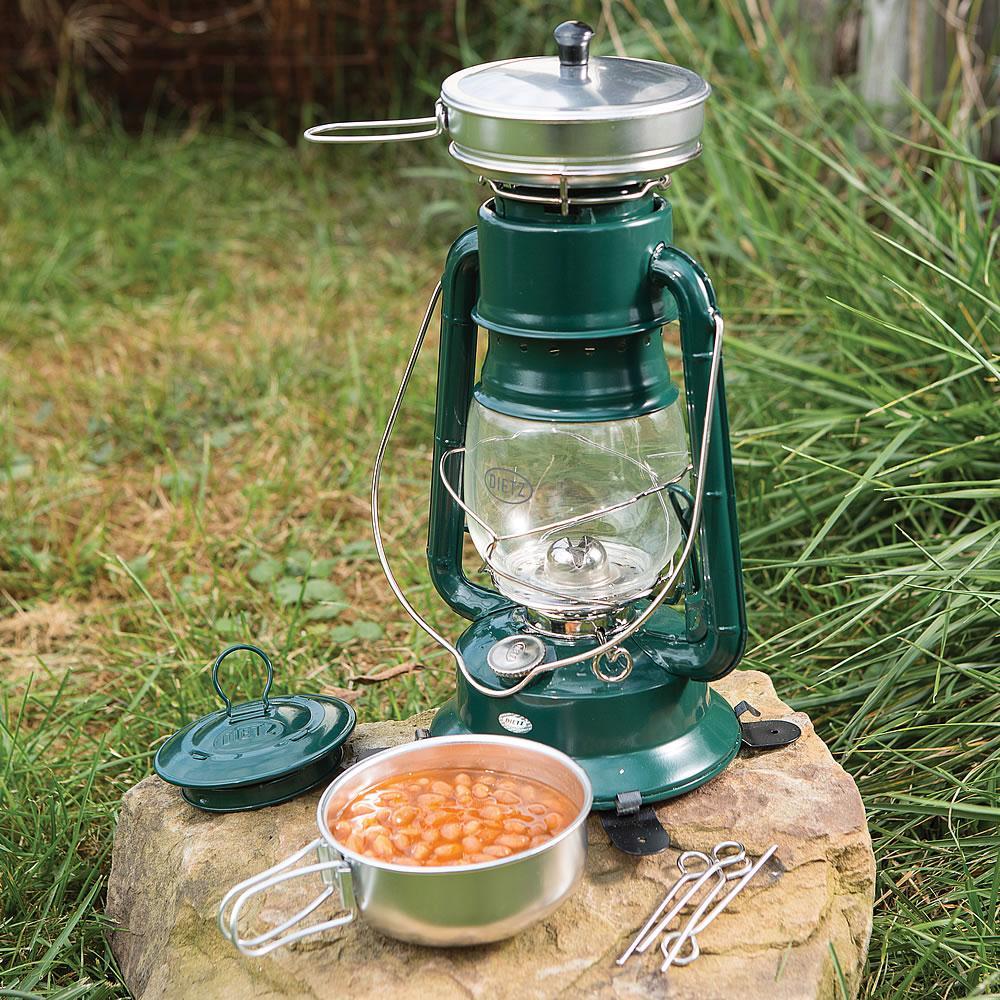 #10 Light for a Picnic
While traveling in the wild a wick lamp can become an irreplaceable assistant that is capable of not only granting light, but you'll also be able to cook on it! The heat of the lamp is enough to prepare the simplest dishes. The hermetic construction of the lamp is not afraid of cold or rain. It will be your loyal friend under any circumstances.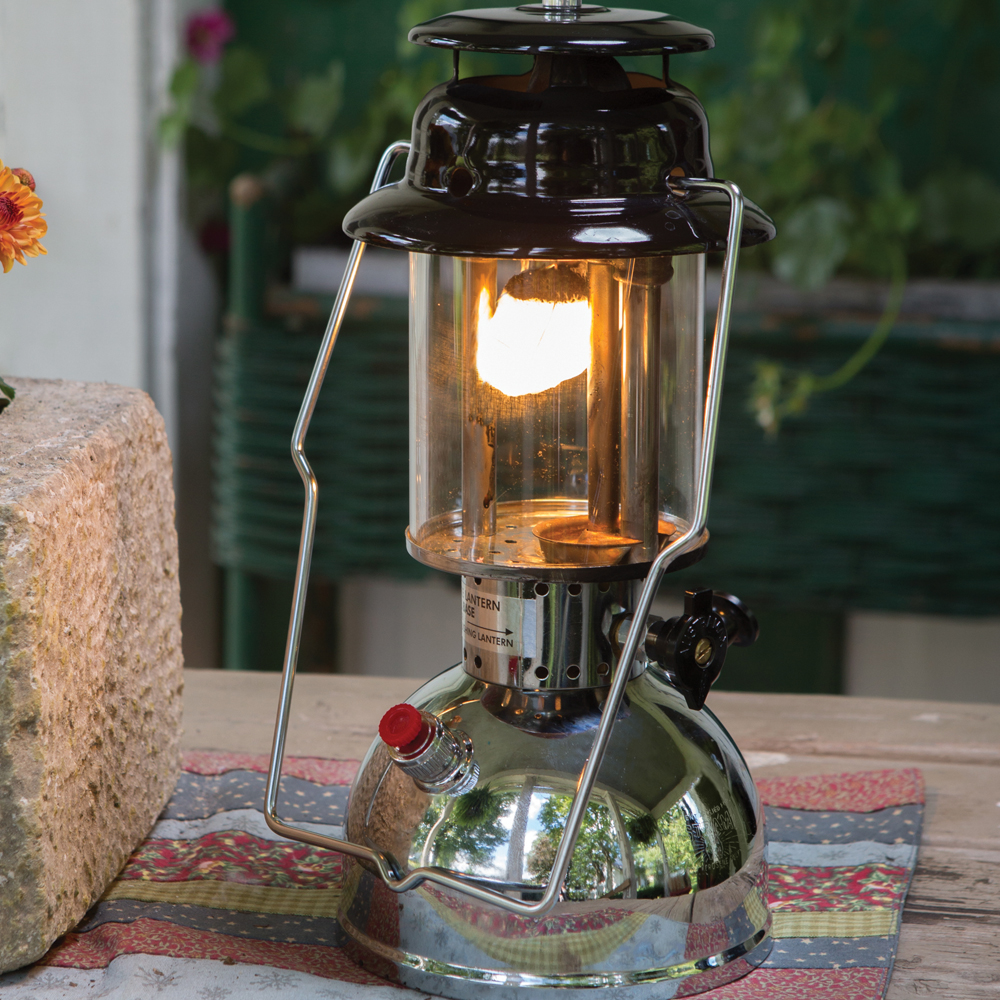 #11 Portable Cooker
Here's an awesome cooking item that can work as a bright light and as a portable cooker. The temperature of the stove is enough for boiling and frying various types of dishes. The items is a must have tool during remote journeys or as a part of a first aid kit in case of some natural disaster emergency. With a full tank it can work for several days until gas and energy supply will be restored. The item was designed of light alloys so that it could be carried around easily.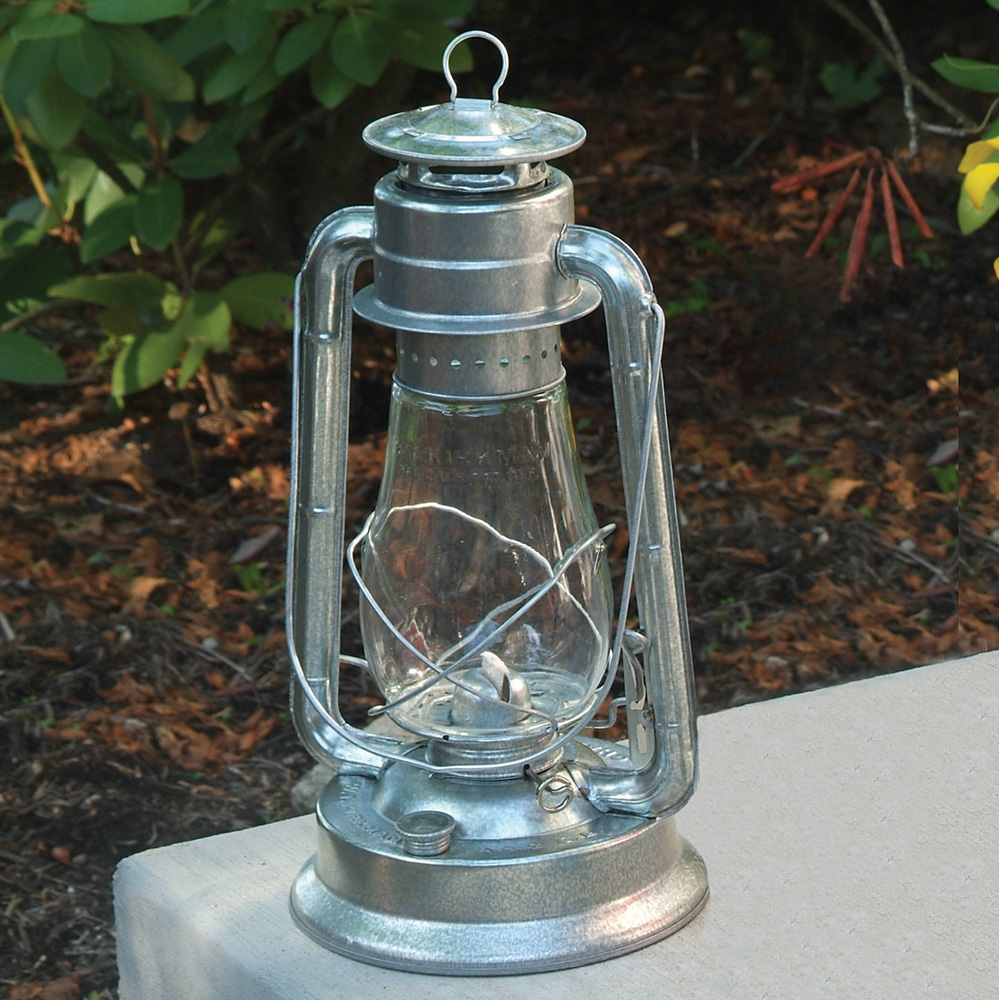 #12 Comfortable for Camping
Once in life every person should experience the romantic mood of camping. It's not only an excellent opportunity to spend some time with a beloved person, but also a fun time with kids and friends. To get full set of impressions one should be fully equipped for the journey. The travel lamp is a vital item for those rough camping nights.
View price and Buy