10 things to know about Outdoor Gazebo Lights
Well with gazebo lights sets you could have just that. Many people will get a gazebo for their garden, but they are not using it to its full potential if they don't install lights in it.
But this is a mistake because just by adding lights to your gazebo means that no matter what time it is, you can still get enjoyment from your gazebo. Powering your lights is something that you need to think about because without electricity your lights won't work.
Now it is possible to use a rechargeable battery system
This works well for a lot of people, but others get fed up with having to keep on charging the battery. You could decide that you want to have your gazebo lights hooked up to the main electricity supply in your home.
However dealing with electrics can be dangerous so it would be better to get an electrician in to do this job if you have never done anything like this before.
Great addition
Gazebo lights sets are a lovely addition to this building, and once you install them, you are sure to get many admiring glances from neighbors and visitors. And with your gazebo all lit up, you will be able to enjoy this construction after the sun has set with a nice glass of wine or a good book.
#1 The Star Sky Design
If the gazebo is performed in the open style, it would be a great idea to decorate it with some loose hanging garland. Thus it will resemble an amazing night sky with sparkling stars on the background. Such light will add some extra comfort to the surrounding area and will be very useful if you decide to prepare some barbeque. It may become an incredible experience with plenty of comfort.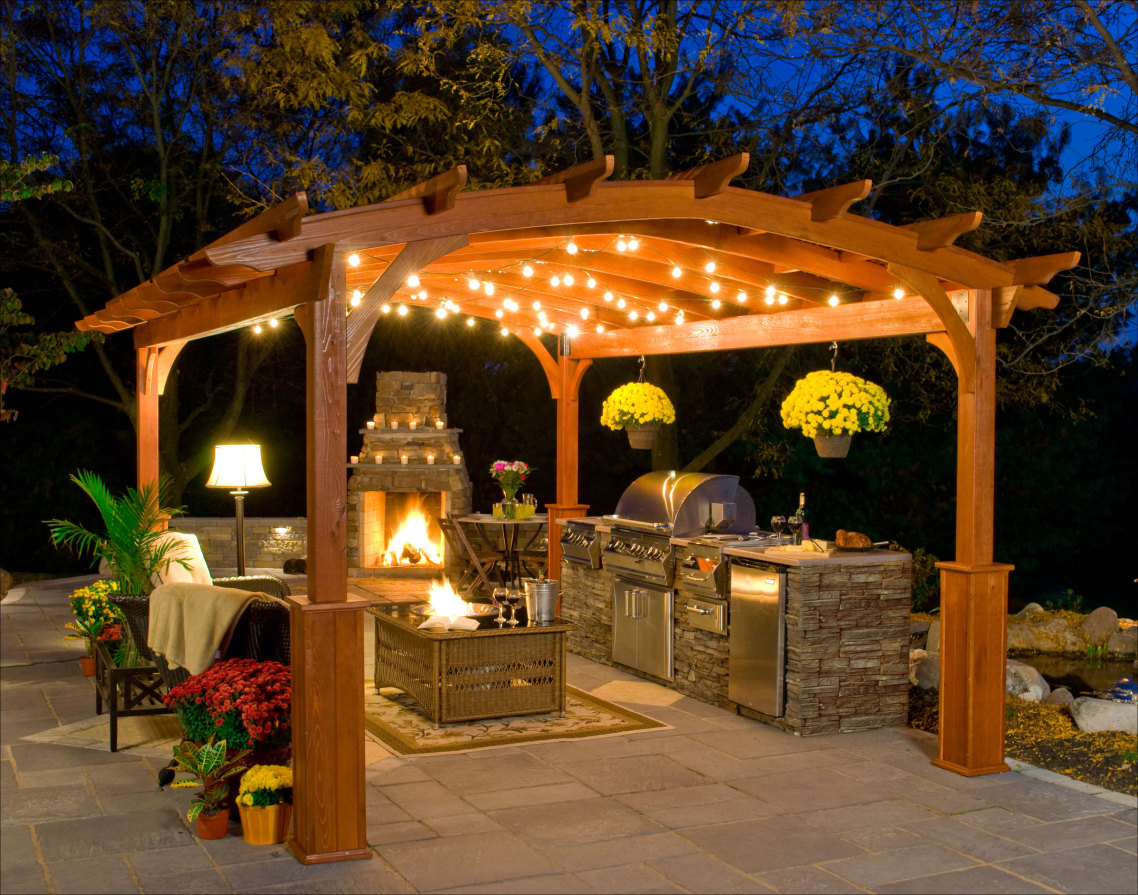 #2 Elegant Garland
If you were lucky to have a gazebo near the sea side, there will be a limitless number of designer opportunities. One might prefer some creative solution to add some nice light to an overall look. The garland light balls which are combined with the curtains of natural cloth would emit coziness and unbelievable comfort. They can be easily attached to the frame and make the owner happy and satisfied.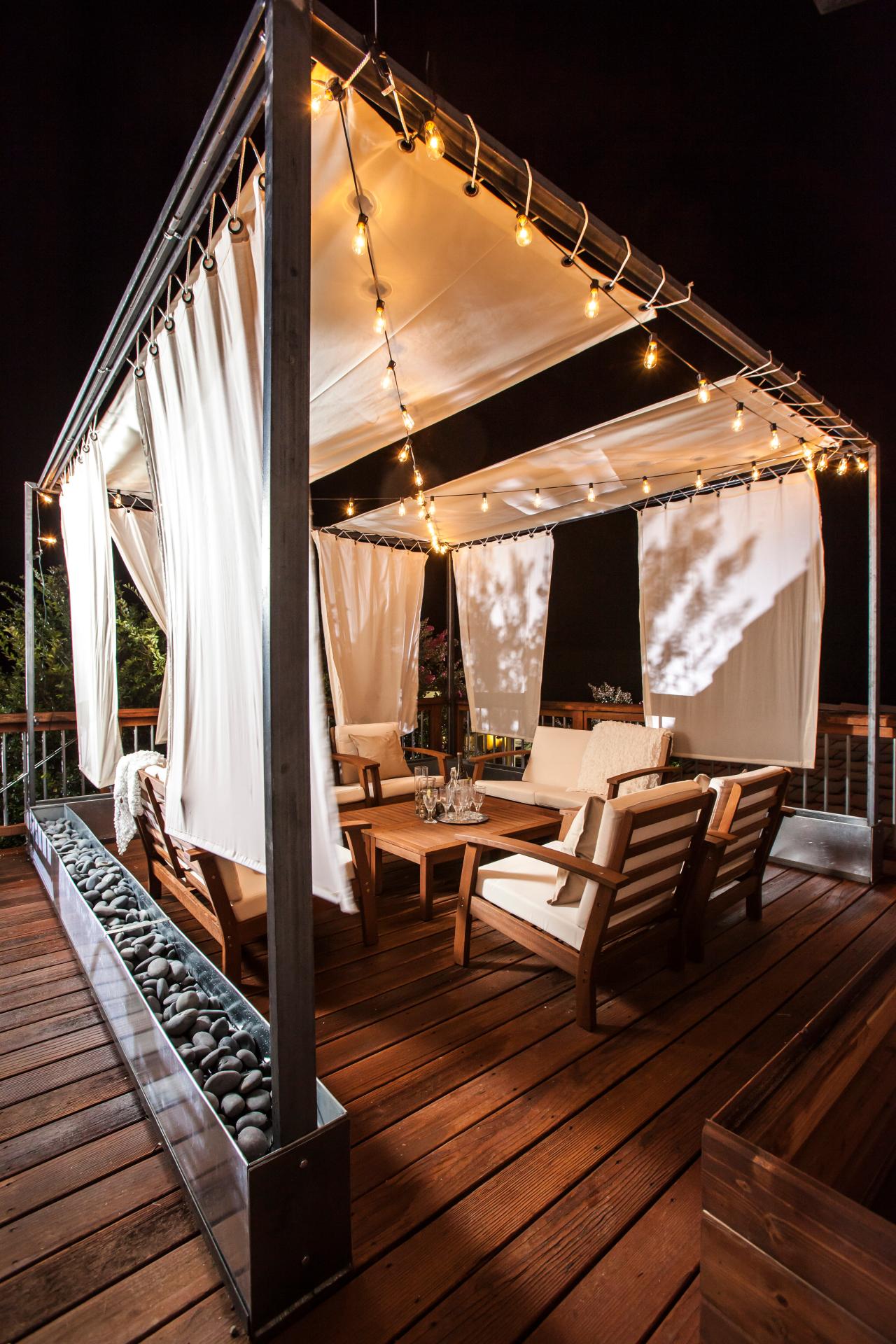 #3 Zonal Light
For the gazebo that is built of wood and with a brick basis, a projector light will be a nice variant of decoration. There are numerous LED projectors which are capable of granting a decent amount of light without any need to sacrifice the tremendous amount of energy. Such a light can be adjusted for extra angle of comfort. The light sensor can be added so that light turned on when necessary.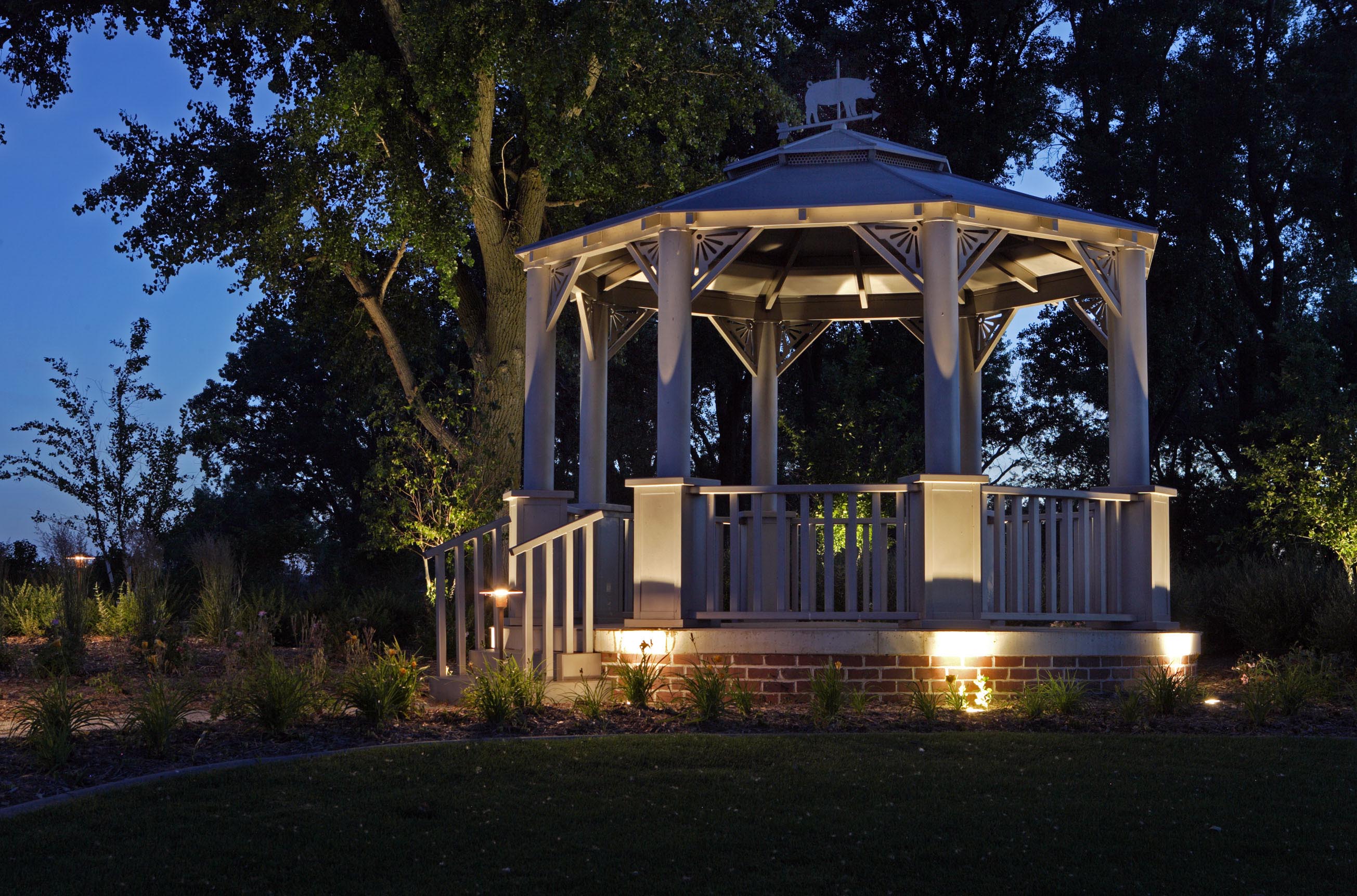 #4 Sparkling charm
Simple shining garland is a marvelous option for preparing your outdoor paradise. The standard lights are rather cheap but effective looking. The only thing that must be taken to consideration is the applicability to open spaces. The lamps are capable to withstand humidity according to the standards of safety, so it will be an excellent option to use in order to bathe the place in light.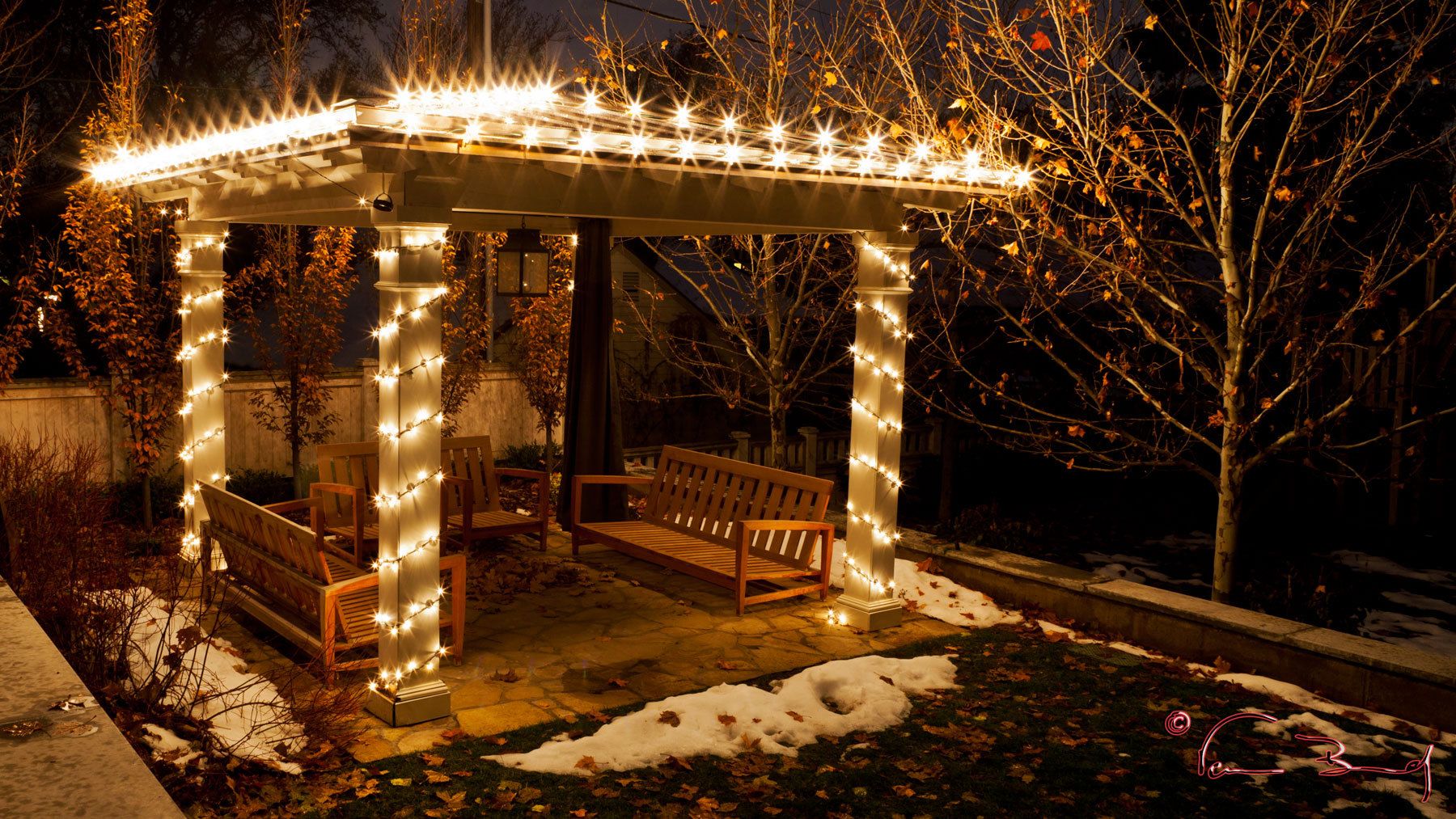 #5 Miniature Light
Sometimes the minimalistic light is an excellent option for a modest decoration. In this peculiar case we've got some nice gazebo that is rather simply made. Four metal columns with forged metal pattern and a tent on the top. This would be nice place for dancing and after placing some chairs and a table it might transform into a splendid summer dining hall.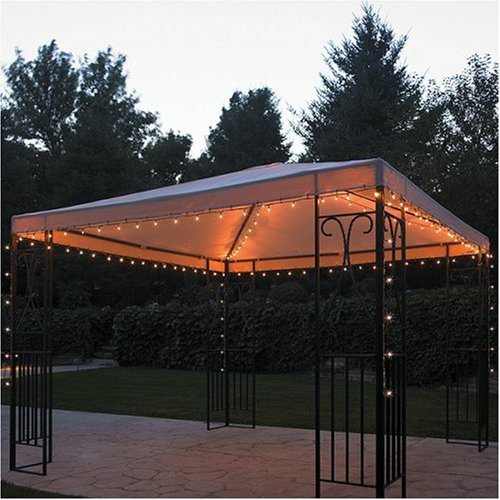 #6 Purple Light near the Fireplace
Such a finely designed gazebo can be considered a separate room in warm period of the year. There is a bed and even a fire place. It's a truly romantic spot for a couple in love. The purple light perfectly creates the mood for some rest as it is an excellent meditative color. Those people who are considering a variety of solutions can look thoroughly at this rest room option as well.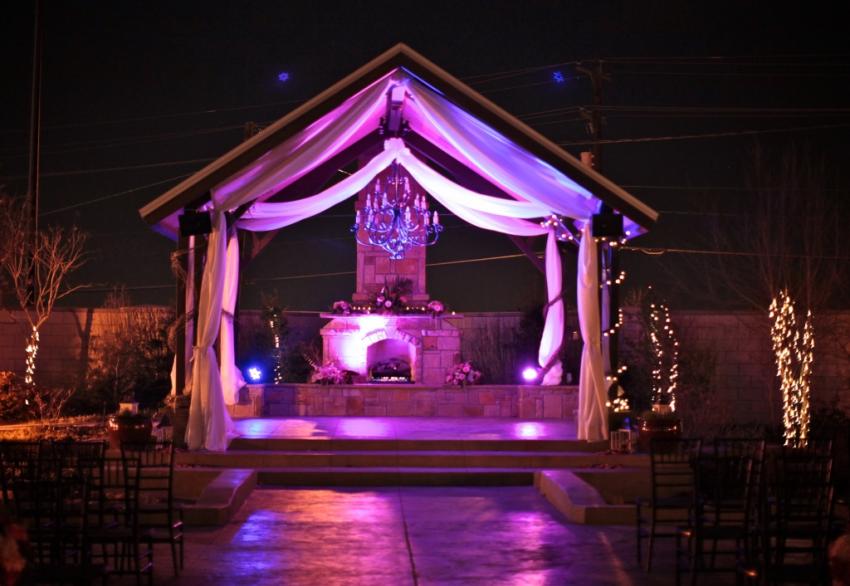 #7 A Room under Open Sky
Here we can see a real living room under the night open sky. People who live in warm regions can enjoy such a place all year round especially if the roof is made of waterproof material. Here is a full set of living room furniture – pair of chairs, a glass table and a couch with some soft pillows on it. A brilliant ceiling lamp will be a splendid coronation element of this room in the wild.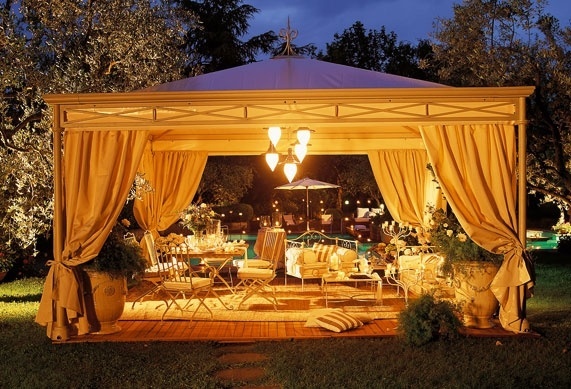 #8 The Column Emphasizing Light
If the gazebo is introduced by a very simple construction that is composed from a set of pillars with a tiled roof, there is a nice option to use a spotted light on the top of the columns. In this way the light will create a nice shining area within and around the construction. It will be a perfect place for any type of activity as the lamps will provide equal opportunities for eating, reading and even meditative sitting in the armchair.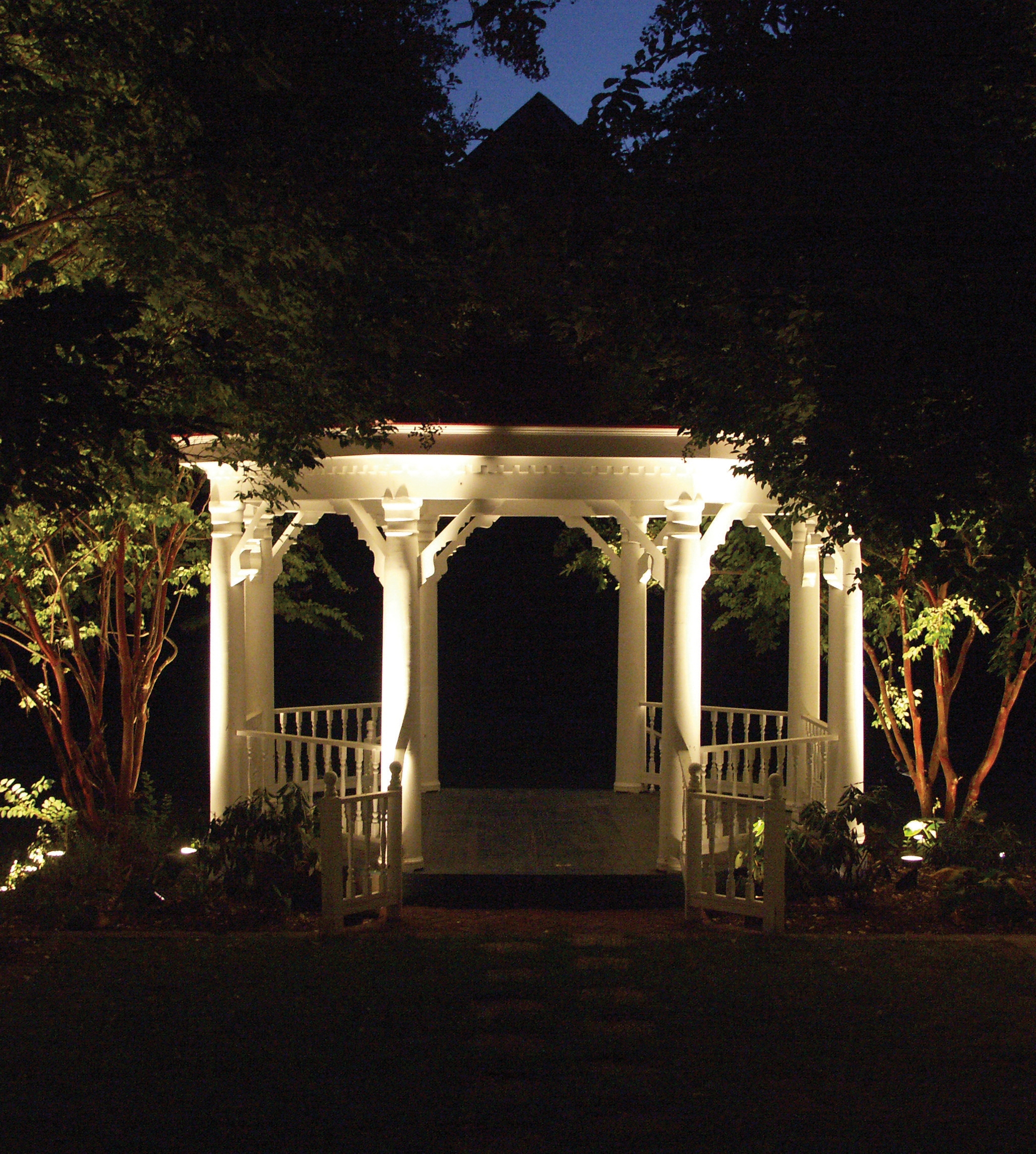 #9 Sun Powered Light
The sources of alternative energy have become rather popular among people. The market offers a vast selection of sun powered lamps so that you could install them in your gazebo. The solar powered garland and lamps are protected from all types of negative weather conditions. Just check the capacity of the battery as the larger amount of charger means more time of autonomous light for you and your comfortable place.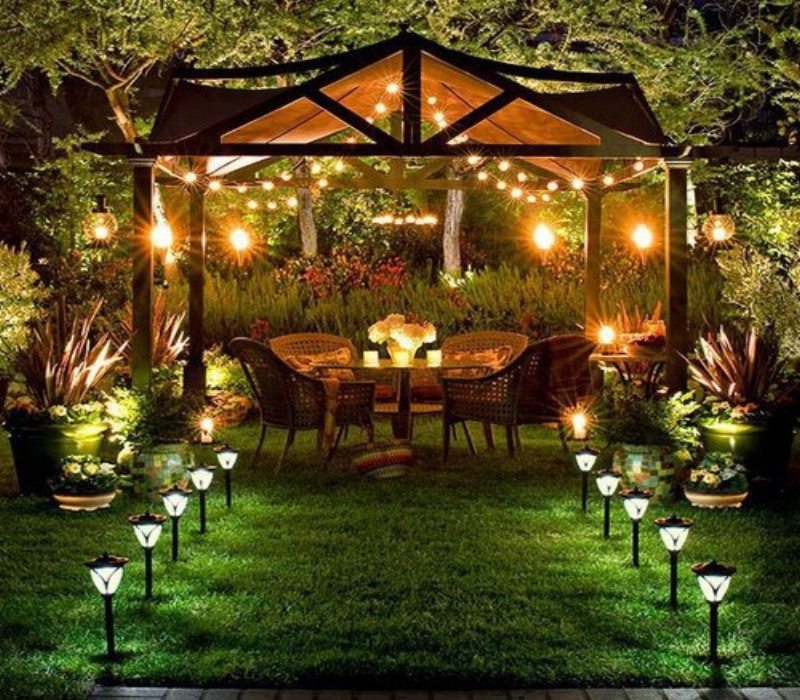 #10 Ocean of Light
The more light you use, the brighter and bigger the object will seem. In this case we have got a construction that is covered with garlands on top and on bottom. It resembles the oasis of light in the night. It pierces through darkness with the lamps and brings the feeling of warmth and comfort. It would be a nice place to spend some pleasant evenings.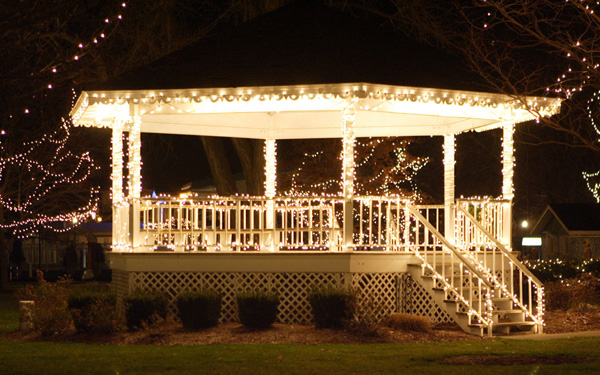 View price and Buy