Oil rain lamps are lamps that are designed in such a way that while using it, there is an appearance of raindrops in the lamp. Oil rain lamps are distinct from the ordinary oil lamp both in the way they are made and the functionality.
Rain lamps
While conventional oil lamps are used for lighting only especially in the non-developing countries where there is limited access to electricity, the design of oil rain lamps enables them to serve two purposes, lighting and beautification. Indeed, they serve the ornamental function more than the lighting one.
The light produced allows them to display beautiful streams of oil that run down vertically suspended in filaments in a series of drops creating rain-like patterns.
In the 1970s and 80s, oil rain lamps were very popular in the United States. Due to the demand for oil rain lamps that existed then, they were quite expensive and poor families considered them to be a luxury.
Oil rain lamps
However, after the 1980s, their significance diminished, and fewer people sought them. Interestingly, many people are now looking for oil rain lamps, probably for ornamental purposes as opposed to lighting. Today, most houses in the US have been connected to electricity. As such, lighting may not be reason enough to want an oil rain lamp.
The reemergence of oil rain lamps in this century is nothing surprising. Historically, oil lamps that were made of expensive and beautiful materials were in use many centuries ago. They were associated with various religions. The Bible and the Quran, for example, make reference to a lamp a number of times. In ancient Egypt, there were oil lamps that were designed with the image of some of their gods.
Oil lamps have been in use in Israel, India, China, Egypt and many other countries. A common denominator is that in all of them, the oil lamp is considered religiously or ornamentally significant. It should not be a surprise if their importance once again increases all over the world since history often repeats itself.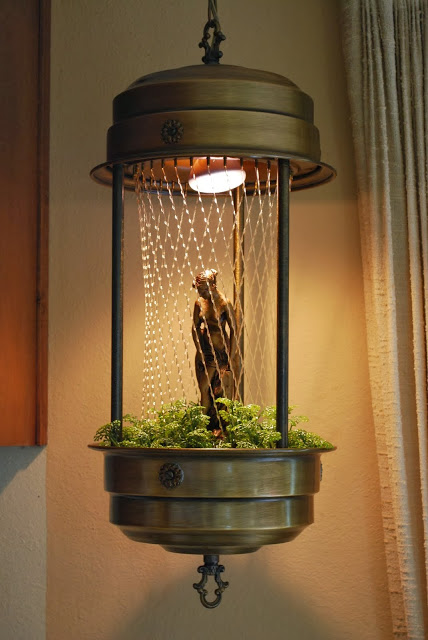 #1 A Stylish Decoration
This lamp is a fine reminder of the 1970s trend in fashion. It introduces a fine bronze color that makes it gorgeous looking. The wiring of the cage shines brightly when the rays of light pass through it. The oil pump pushes the oil through the system, making it quite a reliable mechanism. You can use a standard lamp with construction or a brand new energy-saving one.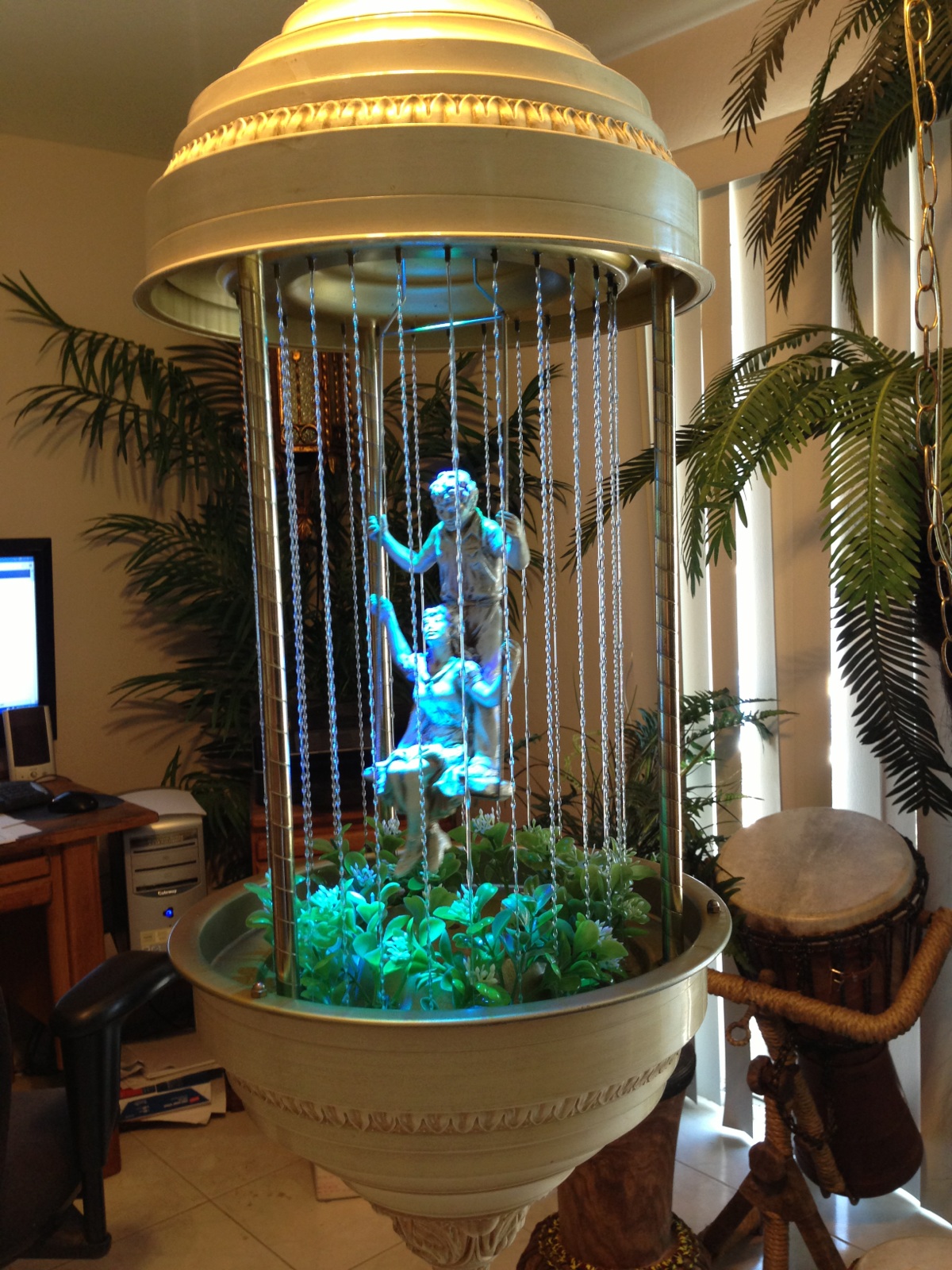 #2 Kids in the Garden
The Vintage Eames Era oil lamp was constructed back in 1978 by a popular Chicago factory. This lamp is really big and beautiful. Those people who saw this lamp state that this is an image that was inspired with Mark Twain's Tom Sawyer. The figures of Tom and Becky are disconnected from the construction to offer it greater safety during transportation. The white colour and gold trim of the item make it particularly beautiful.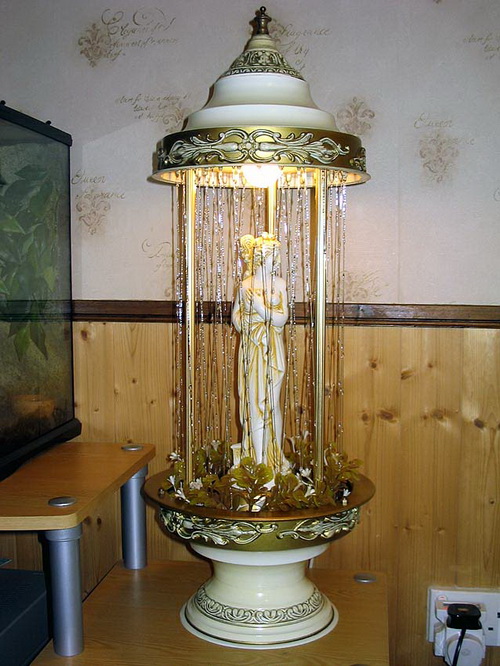 #3 White Marble Cage
This beautiful table-top cage lamp introduces us to the Roman goddess of hunting – Diana. The overall design of the item is introduced in a stylish white and gold metal that resembles some sort of a marble grotto that was popular in ancient times. Now, this reminder of the past will become a marvellous part of someone's premise. It would be a fine acquisition for a classic interior.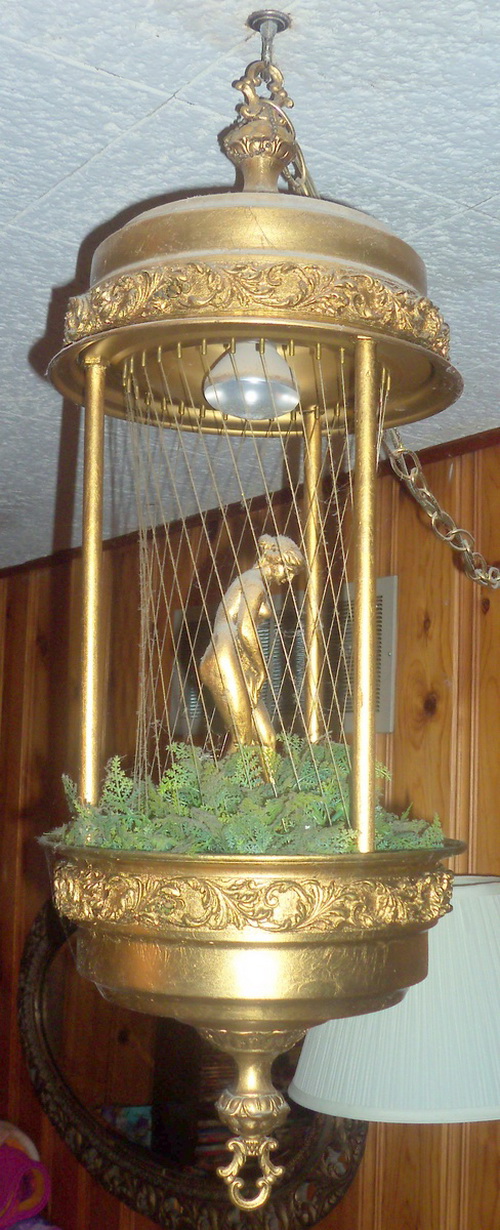 #4 Ceiling Oil Rain Lamp
Mineral oil lamps used to be a stylish element of décor back in the 60s of the last century. The light bringing items boasted a huge size and elegant look that attracted the eyes of the people who saw it. The oil that is used in combination with electricity adds some supernatural gloss and sweet fragrances that flow through the air. This lamp was specifically designed to hang under the ceiling.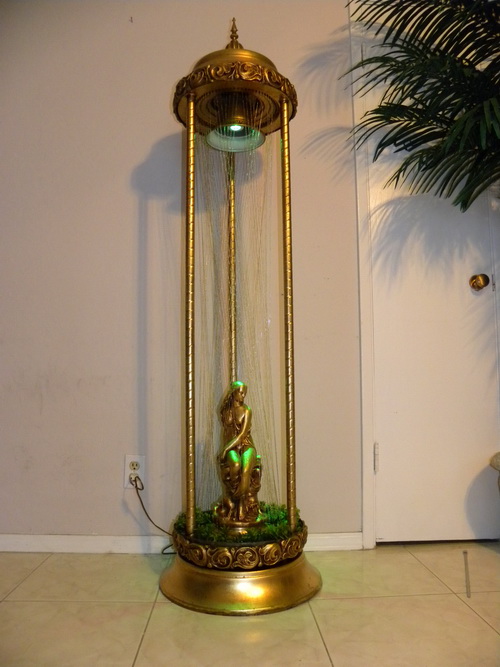 #5 A Little Mermaid
Here we can see a large floor oil lamp. It's an excellent decoration for some unusual interior. It can be placed either on the floor or mounted by means of a special fixture to the ceiling. It adds a marvellous image of a mermaid that is sitting on the stone and washes herself under the waterfall of gold oil. This is a really fantastic lamp to look at, and it really doesn't seem old-fashioned.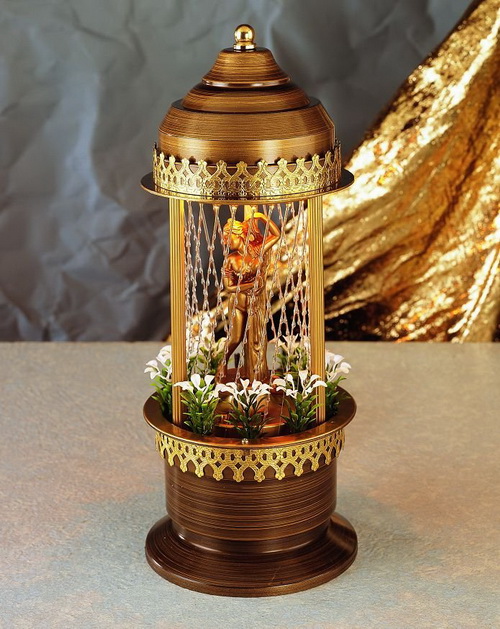 #6 Mini Lamp
This is a wonderful oil lamp that would definitely find a good place on the table of a writer. It's like having a personal muse that was placed into a cage. This table lamp is extremely light due to thick plastic that reduces the weight and preserves a good-looking metal style. The figurine is rotating around the axis under a beautiful oil waterfall.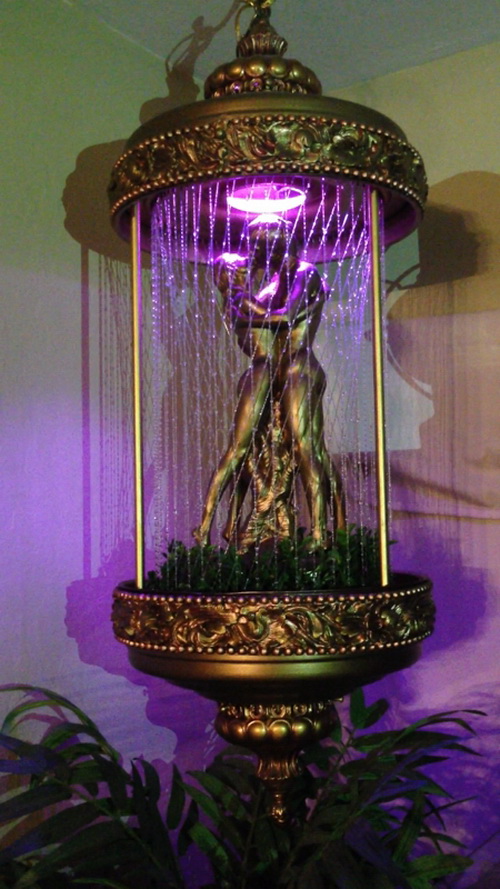 #7 A Couple in Love
This huge oil lamp is for someone who is searching for a stylish lamp that will be different from the standard ones. Just take a look at this couple who is passionately embracing each other, sinking in love. The couple is standing on a grassy field being surrounded with flowers. If you are planning to offer a gift to your beloved person on some special event, this lamp would be an excellent gift idea.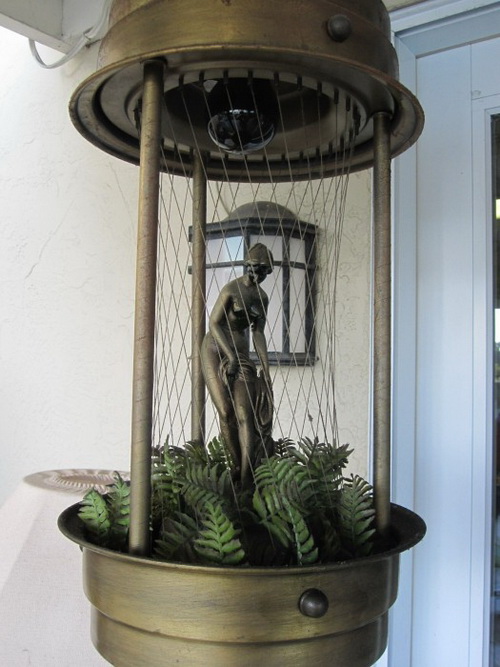 #8 Among the Plants
This oil lamp was first introduced by Johnson Company and will turn out to be a superb vintage purchase that may decorate any room that needs a cool-looking vintage touch. The item is made of bronze-plated metal and artificial greenery. The figurine is also crafted with great care and looks really attractive. The oil drips slowly along the strings, adding some stylish visual effects.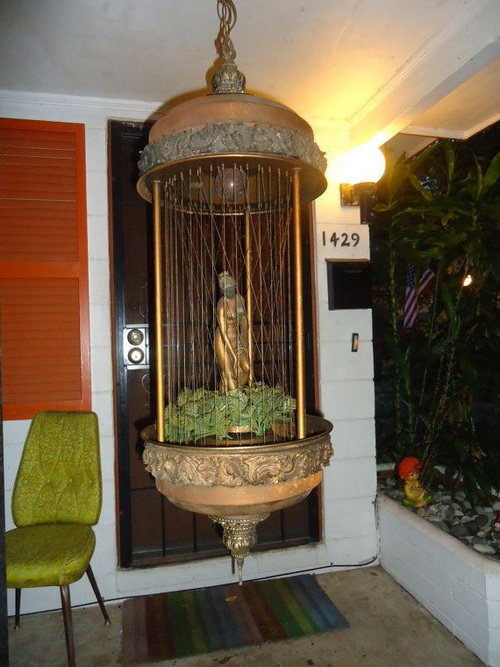 #9 Planting the Flowers
If you care for old-fashioned light sources with an unusual design, this item will be a cool option for selecting. The item is operable by means of a standard lamp, though it can be easily changed into any other energy saving lamp with any desired colour to paint the stature in any hue. Johnson Industries oil rain lamps used to be extremely popular due to the use of an innovative oil pump system that adds some extra beautiful effect.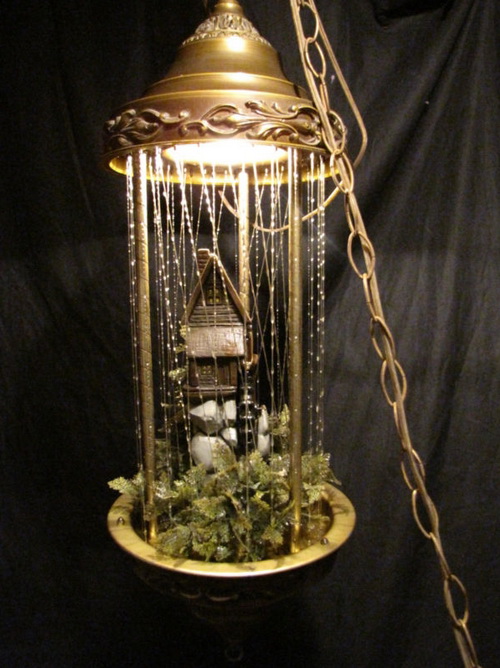 #10 A House with a Watermill
Many people dream of having a house in the forest and this will be your personal miniature house that will charm you with a fancy scenery. The bottom is equipped with a special oil pump that transports the fluid to the top, where it falls like a rain from special sections. The windmill is also workable by means of real water that produces a relaxing splashing sound.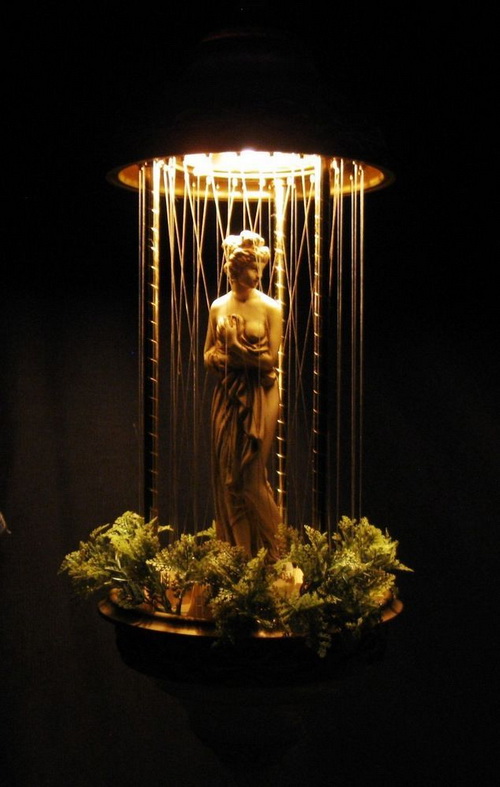 #11 Mother Nature
This oil lamp with a goddess of nature is absolutely amazing. It is a fine table lamp that is equipped with attractive gold plated base and upper frame as if to emphasize the beauty of the lady. You can select any colour of the lamp to obtain the most appropriate image. The owner of such a lamp would be definitely satisfied with the brilliance that it would bring to the house.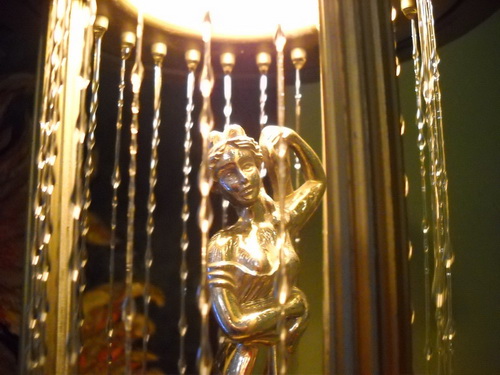 #12 The Washing Nymph
Most of the standard oil lamps are characterized with a huge size due to the specifications of the mechanism. However, one should consider himself very lucky if he manages to find a smaller version of the lamp as they are considered real treasures among the collectors of such lamps. It has got the same stylish look, but with a miniature size that is just awesome for a small premise.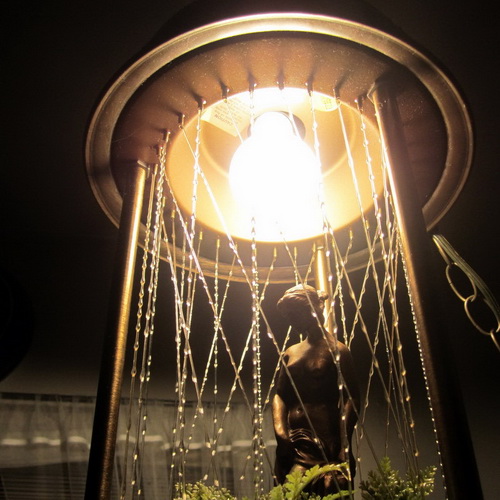 #13 The Caged Mercury
Did you ever dream of catching a god of wealth and god fortune? This lamp has a got a god of business and trade caged inside a beautiful cage. The Mercury is made of cast metal and looks absolutely natural according to classical art school. All the muscles are made visible and he really looks divine. When the light is switched on, he becomes engulfed with the flow of light the beauty of which doesn't require any comments at all.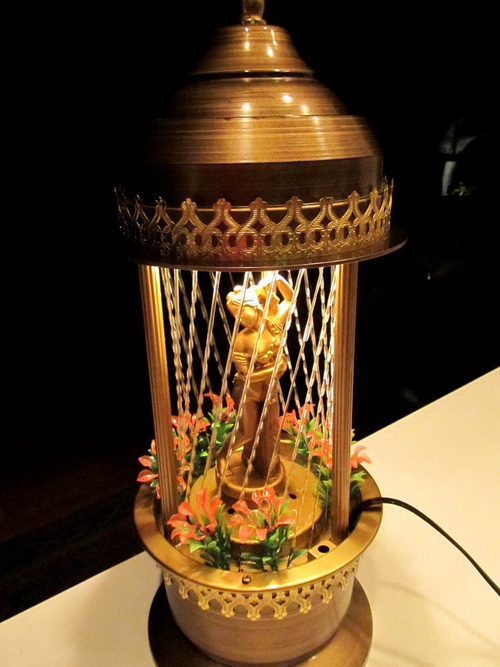 #14 Venus is Taking a Shower
In case you desire some swag looking lamp, this thing will become an excellent idea for acquiring. It introduces us an amazing classic art of Venus goddess that was taking a bath in a grotto. The grotto is made of dark bronze metal and is rather durable. The mechanism of oil transportation is made in a shape of pillars which connect the stem and the top, making the net with dripping gold look fascinating.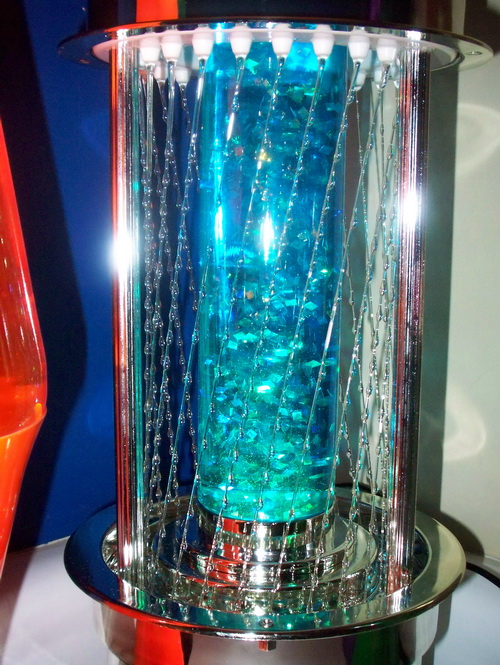 #15 A Pillar of Water
With the flow of time the technologies have greatly changed. Here you will see a more modern version of the oil lamp that combines the usage of modern diodes technologies and durable aluminum mesh that transports the oil by means of a special mechanism. This model cannot be called a vintage one. It looks more like an image of some underwater palace lamp.
View price and Buy