How to Install Outdoor Lighting
Outdoor lighting serves many purposes. It can be a security device to strategically illuminate the home against intruders, an aesthetic installment to highlight features of the home and/or garden, and a safety feature, providing a clear pathway in the dark to the front door. Well-placed lighting adds curb appeal and value to your home.
If you've decided to install outdoor lighting, this article will walk you through things you need to know.
Special Considerations for Landscape Lighting
Home improvement stores like Home Depot and Lowes offer free advice on their website and on YouTube about how to install low-voltage lighting. For the easiest install, it's advised to get a professional electrician that knows how to install outdoor lighting. If you are determined to install it yourself, read and use the installation guide that comes with your low-voltage light system. Low-voltage landscape lighting run on 12 volts so they are both energy efficient and safe to work with.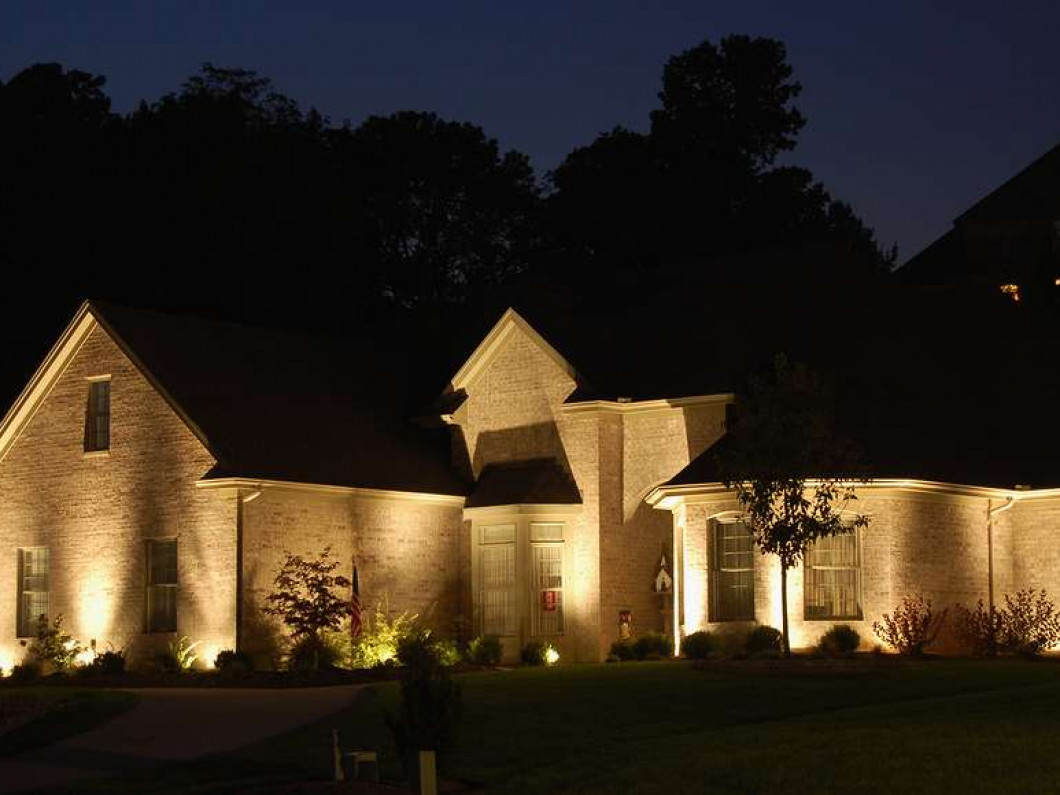 Steps for Installing Low Voltage Lights
Plan where you want the lights. Follow the natural path from driveway to front patio, for example, or place them so that they illuminate specific parts of your landscaping.
Once you have the placement in mind, dig a narrow trench of about 3 inches deep that will be for the buried cable.
Push the cables down inside the trench, and carefully push the light stakes in the ground.
Turn off power at the breaker for safety and then plug the transformer into an outdoor receptacle.
Set a timer for the lights.
Add a plastic cover (sold separately) to the outdoor outlet.
Test the lights at night.
If they work, bury the cable. Some people like to use lightweight material to cover the cables, so that if lights need to be repositioned, they will not have to be dug up.
LED Lights
LED landscape lights are also easy to install. They are actually composed of electronic parts instead of lightbulbs, and run on DC power rather than the AC current used by most low voltage lighting transformers. They use little energy and usually last longer than bulb type lights.
Solar Lights
The easiest to install are solar landscape lights, which are gradually improving. With no wiring to worry about, the main concern is that you place them where they get full sun during the day to fuel their illuminating power at night. They need about 6 to 8 hours of sunlight to charge for nighttime illumination.
Additional Tips on How to Install Outdoor Lighting
Know where your outdoor power sources are before you start.
Push the light fixtures into the ground gently so that none of the elements break.
Think out of the box when installing lighting. LED lighting cables along outdoor stair cases add interest and require no major wiring as they are plug and play.
Use a licensed electrician if you need to install a new outlet outdoors.
Specialty Lights
Water features in your yard or garden add beauty at night, especially when they get accented by underwater landscape lights. You can light up your pool, backyard pond, or fountain with waterproof, submersible lights.
Motion-detecting lights are popular because they help you see during the night and scare off would-be intruders.
Step lights offer safety to outdoor stairs and added architectural interest. These recessed, individual lights are typically installed on the risers (vertical portion of each step) but also can be added to the stair treads (horizontal surface on the stairs). Another treatment for outdoor stairs is to install LED string lights under the banister.
Post Lights and Wall Lights
Lights mounted on posts give off ample light for nighttime arrivals and wall lights are usually installed by the exterior threshold, helping when one comes home after sunset and uses a key for home entry. Quality post lights can be constructed of various metals, including bronze and galvanized steel, often with a black patina. Other materials include aluminum and durable resin.
String Lights
While they are not necessarily made for outdoor use, string lights like the small Italian lights give an airy, fun atmosphere and are not limited to the Christmas season. Shops like Target offer various light strings throughout the year. Amazon is another source for a wide variety of string lights. These lights come in assorted lengths such as 25- or 50-foot strings.
Homeowners have more options than ever before for lighting up their properties and adding lighting can be a way to add safety and beauty at night.
View price and Buy