Cool lamps – 15 ways to spruce up a room
Looking to spruce up a room and make it brighter but want to avoid traditional, boring lamps? Well, fortunately you will have a lot of options to meet your wants, your needs, and your unique style. Below are some descriptions of how to accessorize your room with funky, trendy and cool lamps.
Cool Desk Lamps
If you are looking for a desk lamp then you will be greeted with tons of options. Desk lamps are great not only for functionality reasons but also for aesthetic reasons. They serve the purpose of brightening up your work area as well as adding some style and flair to your work space. Whether you are going for a classic, elegant look or a modern, cooler approach there is something for everybody. Do not be afraid to choose something more unconventional if that is what you like!
Cool Floor Lamps
Perfect for any corner of the room, floor lamps can also be both functional and stylish at the same time. These lamps are especially handy to just place wherever you have room or need additional light. Once again, these lamps are a way to express yourself and show your interests. From cool floor lamps made from limbs of trees to chandelier floor lamps, these lamps are versatile and can be very stylish.
Just for Fun Lamps!
There are so many options of lamps out there that are really just for fun and can also create ambience. From cool lava lamps to lamps shaped like various objects to even funky, abstract lamps, people can really express themselves through their décor selections including lamps. The possibilities to truly express yourself are endless. Use these types of lamps as an opportunity to create a mellower but fun and cool atmosphere.
#1 Dripping Cup Lamps
These spilled fluid cups look almost as abstract as the clocks by Dali. It's a brand new surrealistic tendency in designer décor that is both minimalistic and creative. These samples are produced with a tremendous realism and it may seem that the fluid is really flowing. There are various solutions for wall mounting and table placing that would look equally gorgeous. Frozen in a clumsy moment they are waiting for your interior.
#2 Floating Floor and Ceiling Lamps
Some people say that lava lamps are the remnants of old times. However, can you tell this again after looking at these modern designed floor and ceiling lava lamps? The flow of the colourful fluid has a somewhat mesmerizing effect that will be definitely a fine relaxation tool after a long working day. Add some retro-futuristic touch to your interior with these appealing lamps.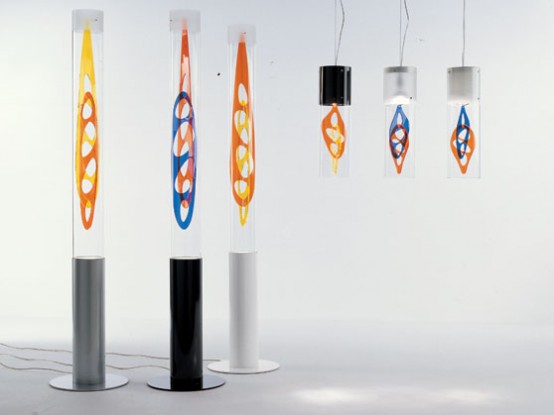 #3 Filament Contemporary Lamps
If you are tired of standard wolfram wiring in the lamp, then you can try a brand new alternative – Filament Lamps which were designed by UK designers Scott, Rich & Victoria. It uses a brand new carbon filament that conducts light better and brighter than before. A great deal of fancy figures can be created, so it would look really stylish in your upgraded light interior.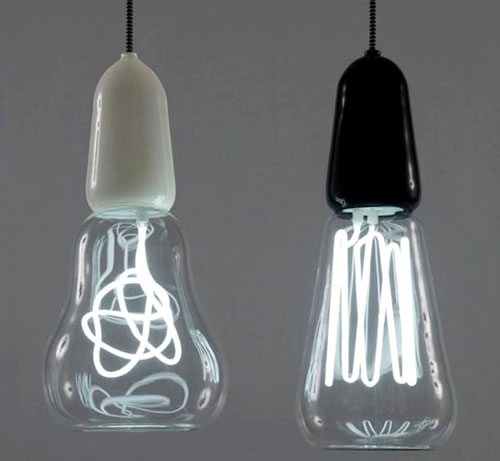 #4 Want Some Ice-Cream
The light will be served to in a shape of an ice-sconce. A compact energy saving lamp is inserted into a fine waffle replica to resemble a soft ice-cream hanging upside down above your head. No need to worry: it won't melt or fall down on your head, but it will surely grant you plenty of light. That would be an excellent light for a nursery as kids are really crazy about eating some tasty cones.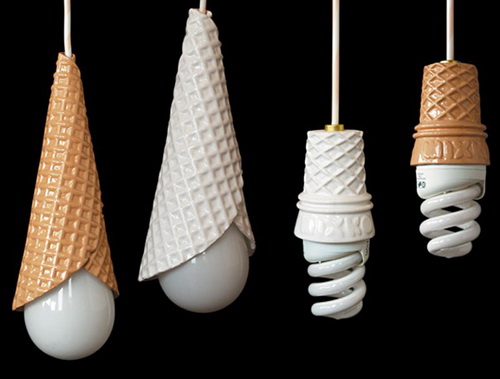 #5 Beware the Full Moon
For those who are passionate about the stars this floor lamp would be a nice opportunity to wish upon a big star. The lamp has got a dimmed light perfect for resting, reading and watching your favourite TV program. The texture of lamp depicts all the visible elements on the surface of the moon during the full moon time.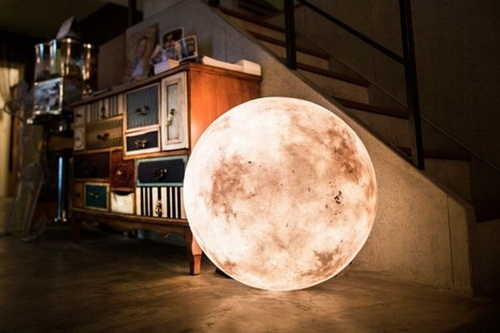 #6 I Don't Care
This lamp would definitely suit some rebellious teenager. It is figuratively saying F you to everybody who enters his or her den. It's an excellent option for a metal music lover as it is designed as the finest leather jackets which are loved by rock bands. Overall, it's a very unusual lamp with a tone of dark humour hiding in the shadow until the light is turned on.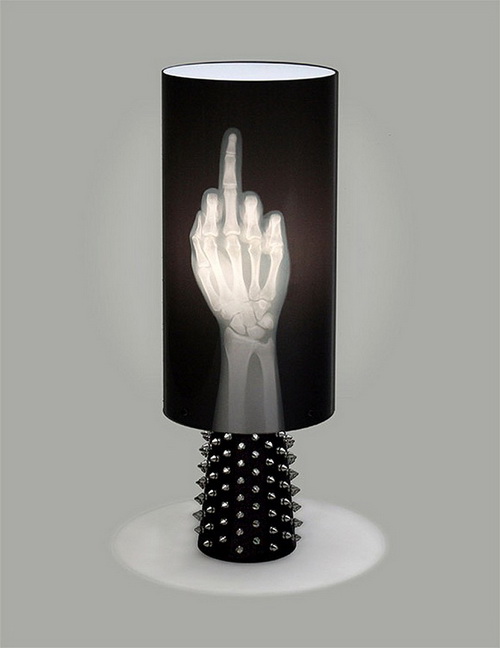 #7 Take the Light with You
The progress changes everything, even the light has become interactive. This unique bedside lamp features a new technology where you can take the balls of light right in your hands. Special phosphorescent balls of various colours are slowly charged from the main source of light and can grant bright light for about 30 minutes after 5 minute charge. That would be useful for night walks in darkness so that you didn't disturb other members of the family.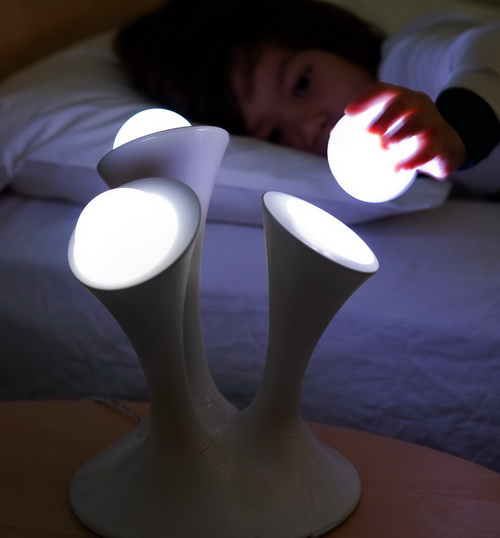 #8 Mysterious Flying Lamp
This lamp was designed to resemble jelly fish which flow freely in the water like weightless feathers. The water traits can be detected in every detail of this cute lamp. It is very slim and introduces overall gentle features. The legs are hardly touching the floor and that is the most noticeable fact about this lamp as it looks as if the lamp is hanging in the open air.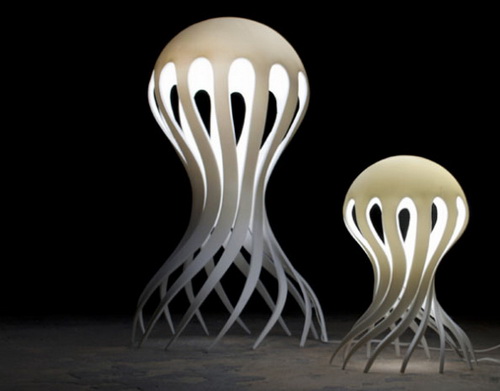 #9 Rocky Way to Illumination
Mother Nature always knows best and this model of LED lamp perfectly proves that. Only the best and the smoothest stones were picked for this lamp and placed in the shape of a pyramid. A steel pole is plunged through the stones to keep the balanced and when the light is turned out it falls like waterfall of light along the rocks bringing marvellous illumination.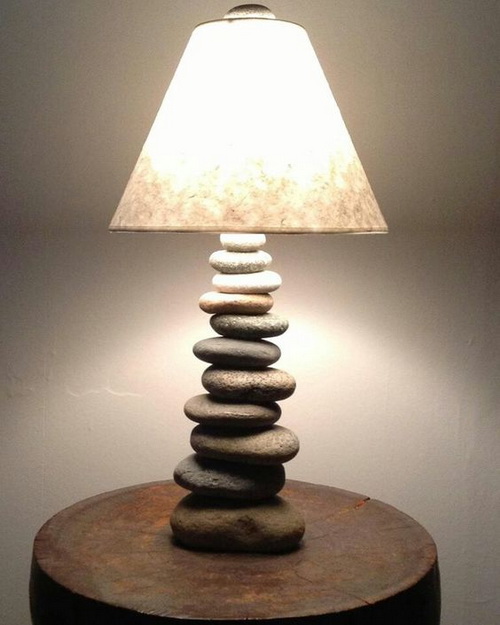 #10 It's Time to Break Some Bricks
Do you remember the times when kids were crazy about Tetris? Now this game has received a second reincarnation on mobile devices in plenty of variations. This lamp was created on the increasing popularity of the game and it will definitely be a splendid gift for a kid, a gamer or a retro fan. Build your own brick pyramid with a Tetris Lamp.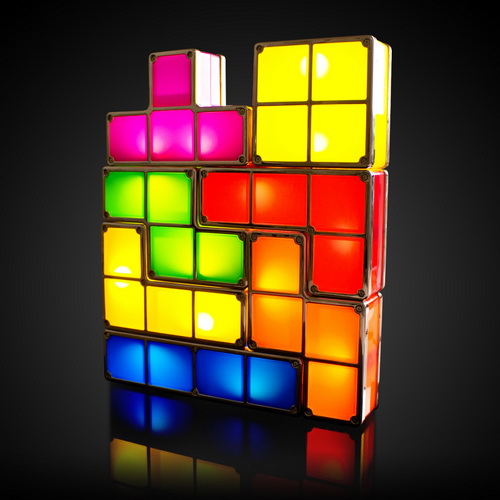 #11 Big Bro Is Watching You
This lamp is constantly watching you to grant some light. This spot camera was designed as a nice industrial style lamp or as fine designer solution for those fellows who are serious about conspiracy theory. It grants bright white light and can be mounted equally effectively on both horizontal and vertical surfaces. It's a rather flexible device and can be adjusted in the most appropriate way.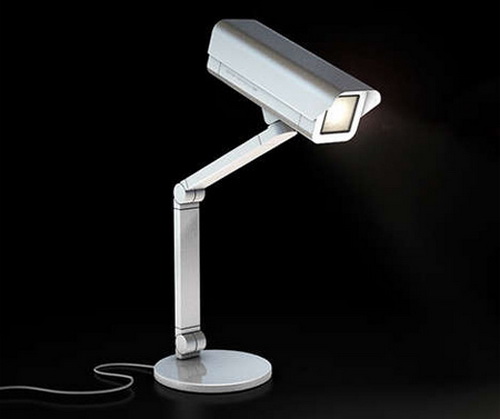 #12 Come Over Here
"I must plug it out!" – that's what this light boy thinks. This lamp from the newest Italian "Play Collection" has taken a shape of person which tries to unplug himself with all his might. It doesn't only grant a portion of night light, but it also serves as a reminder that you should not forget to turn everything off when leaving the house. This is definitely a nice and useful element of decoration in any room.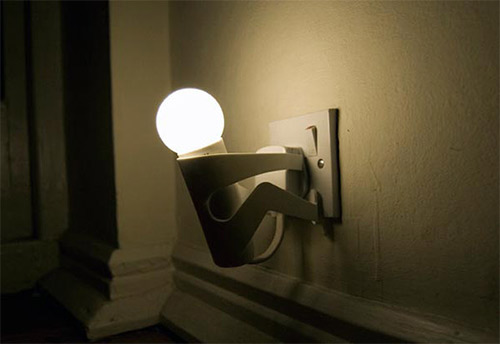 #13 Let's Play Soccer with Light
If you have a friend or kid who is crazy about soccer, this lamp would definitely make the day for the person. It would be an excellent element of room's decoration as it offers a decent amount of fine colourful LED light. It is battery operable, so it can be also taken outside. In addition, there are 7colors in a one football lamp which can be selected according to the desire of the owner.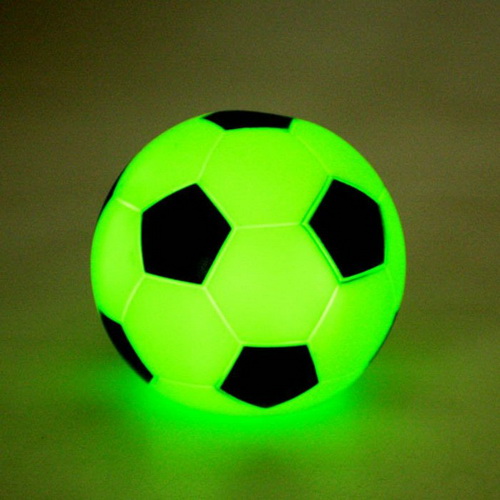 The Steam punk design can be represented not only by watches and steam machines. Designers managed to create a fine surrealistic illusion where valves emit light through the drops of water. These unusual lamps will contribute some Victorian style look with a slight fleur of scientific romanticism that may be a little bit old fashioned and yet very attractive for the eyes of the beholder.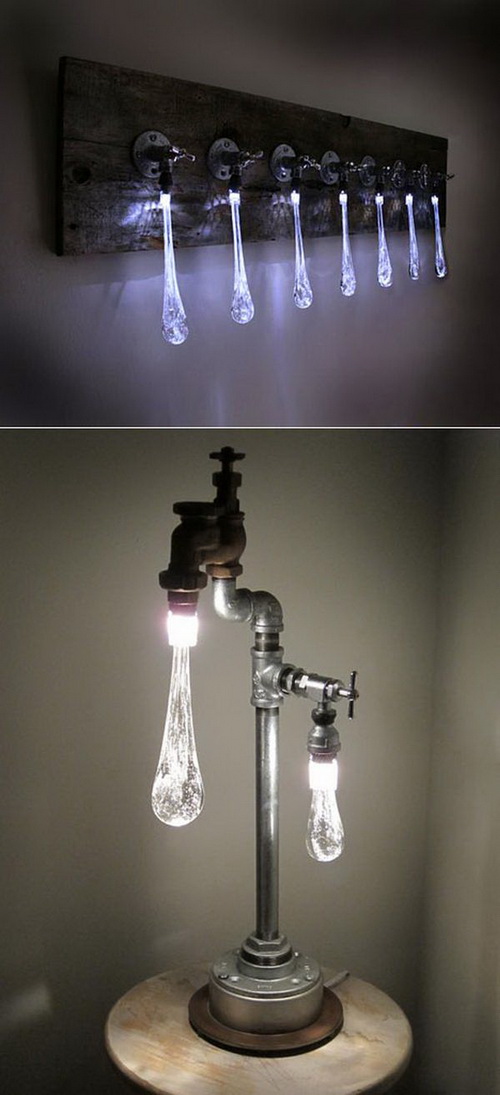 #15 Dripping Smoothie
Help yourself with a fine banana smoothie. Oh no, it's not for drinking! It's a lamp. Here we have another fancy designed illuminating device for a contemporary design room. A spilled cup frozen on the table and granting light – sounds nice, doesn't it? The item is made of plastic and a fine linen shade. The colours are perfectly matching and it seems as if the lamp is a single unity.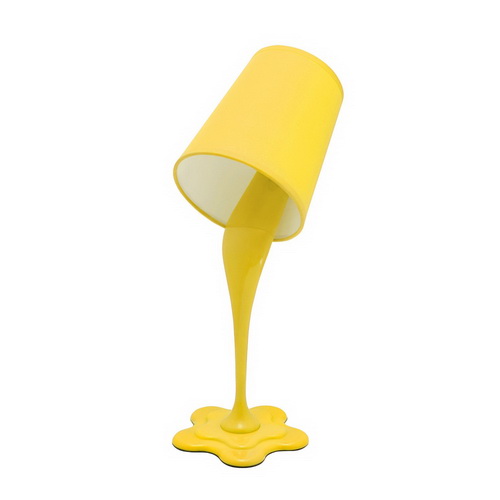 #16 Hangman To Surprise
Now, let's add some black humour to you interior. This Hangman Lamp crafted by Spanish designers proves that there is no end to human imagination. This lamp can be also interpreted as a call for hanging up with friends but in very sarcastic from. If you got tired from standard table lamps, this model will definitely show you that you haven't seen unusual lamps yet.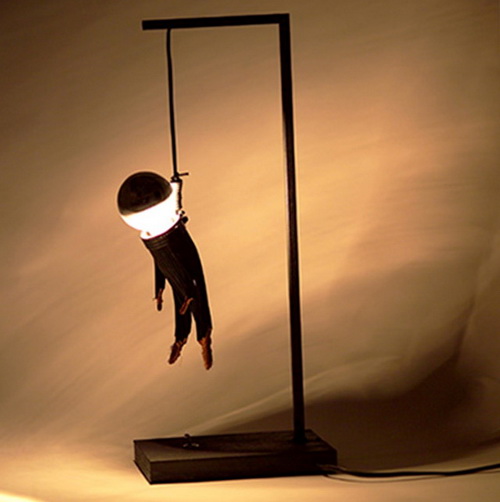 #17 Futuristic Lamp Inspired by Octopus
These lamps definitely resemble some weird gadgets on alien spaceships. It is really hard to imagine, but the designers of this lamp were inspired by an octopus, though the only shape that has remained from the inspiration object is a big head and a triangle body. The lamp emits soft light that is very pleasant for eyes. The color of the light depends on the color of the octopus's head.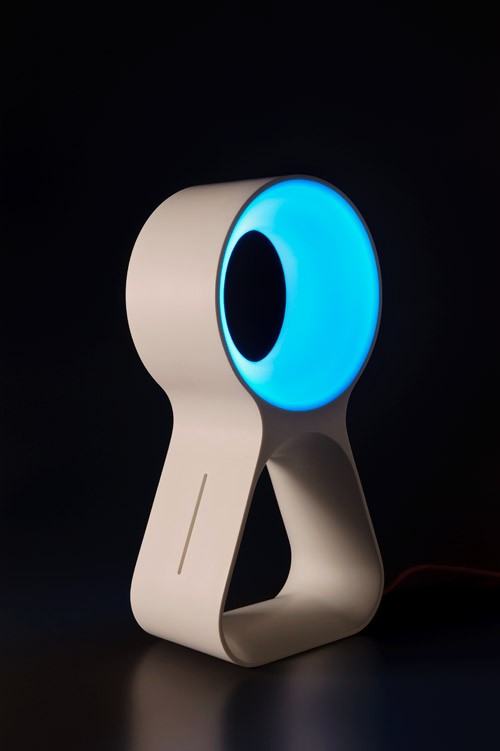 View price and Buy