TOP 10 Modern Bedside Table Lamps in 2023
One way to keep the bedroom in a classy manner is to provide it with good lighting. This is where the modern bedside table lamps come to play. By choosing a good design, you can add that magical touch you have been missing.
Choose the right color
When selecting modern bedside table lamps, make sure that the lamp has a matching color to your walls and the sheets. You don't want to have contrasting colors in a bedroom. And the light should be pleasing to the eye as well.
Choose a beautiful design
Some of us like plain designs while others like a more detailed fashion. When choosing your modern bedside table lamps, make sure you choose a design that reflects well on your personality and likings. The location of the bedside tables is justified by convenience, you can put a book on them or put a glass of water. On the bedside table you can put a night lamp or a reading lamp, if you are used to reading a book before going to bed. It is equally important to choose the right lights for your bedside tables.
Lighting is a very important part of any interior. When choosing a lamp for the bedside table, you should be guided by the features of the interior, personal preferences and convenience.  As a rule, the lamp on the bedside table – it is not only an element of lighting, but also a practical addition to the interior. The main purpose of the bedside lamp is to provide additional lighting for the bedroom.
#1 Crystal modern lamp for the bedside table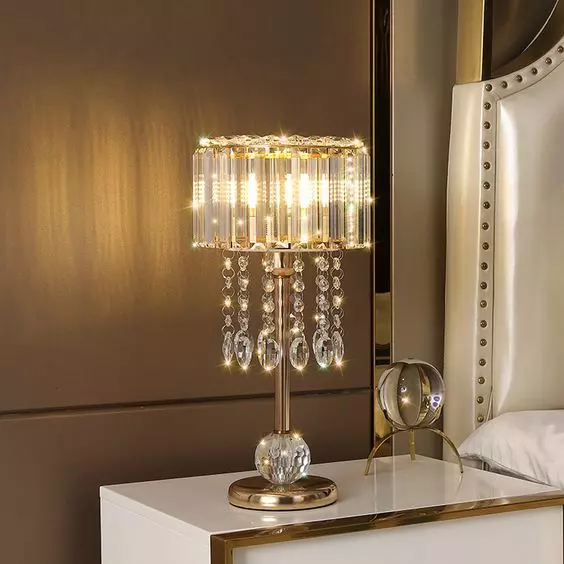 This lamp for the bedside table will be not only a superb part of the lighting, but really the most chic and delightful element of the decoration. However, there is one nuance when choosing such a lamp for the bedside table: you need to consider the overall style of the apartment, and in particular your bedroom. After all, if the interior of your bedroom is made in the style of minimalism, high-tech or classic, such lamps will not fit and just on just look ridiculous and disharmonious. This lamp in the vintage style on the bedside table looks quite aristocratic and unusual, in fact – modern.
#2 Unusual minimalist lamp for the bedside table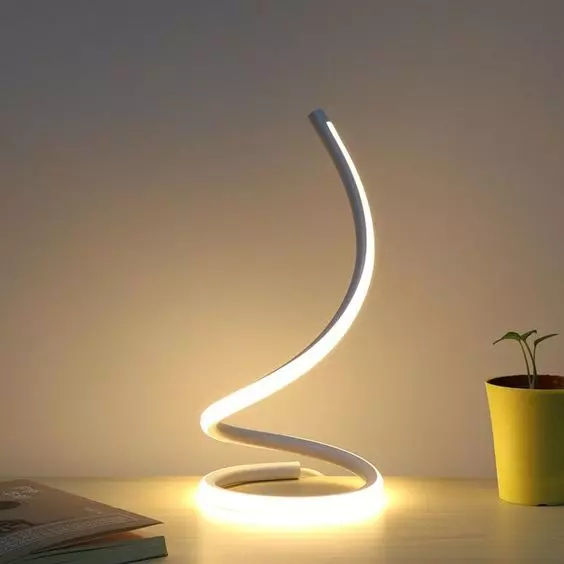 Perhaps this is the most unusual and modern lamp for the bedside table. It is quite modern and has a non-standard shape, namely the form of a spiral. It is due to such an unusual form, this lamp is able to illuminate a large enough area of your bedroom, and this is a very important point when choosing a lighting element in the interior. If you are going to, for example, read a book before going to bed, you can without any effort to turn the lamp standing on the bedside table to the right side or just move closer to have enough light for reading a book. This lamp is an excellent option, allowing you to have a good additional light, while not cluttering the surface of the bedside table and leaving enough space for other things on it.
#3 Modern Robot Bedside Lamp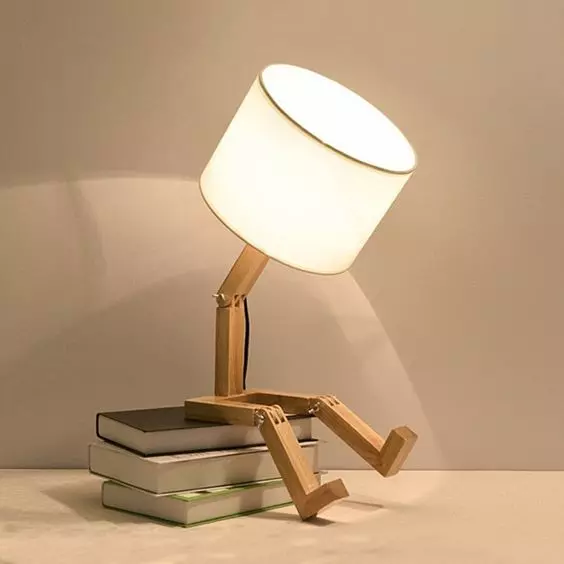 Such a bedside lamp is suitable for fans of such non-standard elements of decor. But this lamp is just two in one, because it is not only a cool and modern element of decor, but also a great source of additional lighting in the bedroom. Such a lamp for the bedside table can also be suitable for the design and addition to the interior in the children's bedroom, because this lamp looks very stylish, modern, unusual and very even cute. So if you or your children love to read books in the evening or before going to sleep, this lamp will be your best buy for the bedroom. The main feature of this lamp – its position can be changed and create an unusual composition on your bedside table.
#4 Modern minimalist bedside table lamps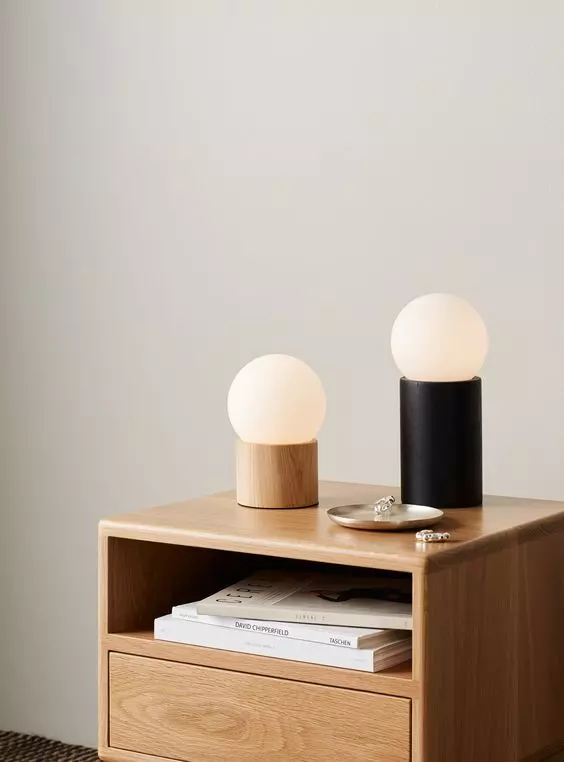 An interesting and practical fact: bedside table lamps can be combined, so you can get not only more extra light, but also an interesting composition on your bedside table. Moreover, if you have an apartment, and in particular in the bedroom, prevails style minimalism, these lamps are ideal and fit into the interior, without weighing it down and not complicate it. These lamps perfectly diffuse light into the room and allow you to comfortably do their business when the main light is too bright and just on just not needed.
#5 Transparent modern lamp for the bedside table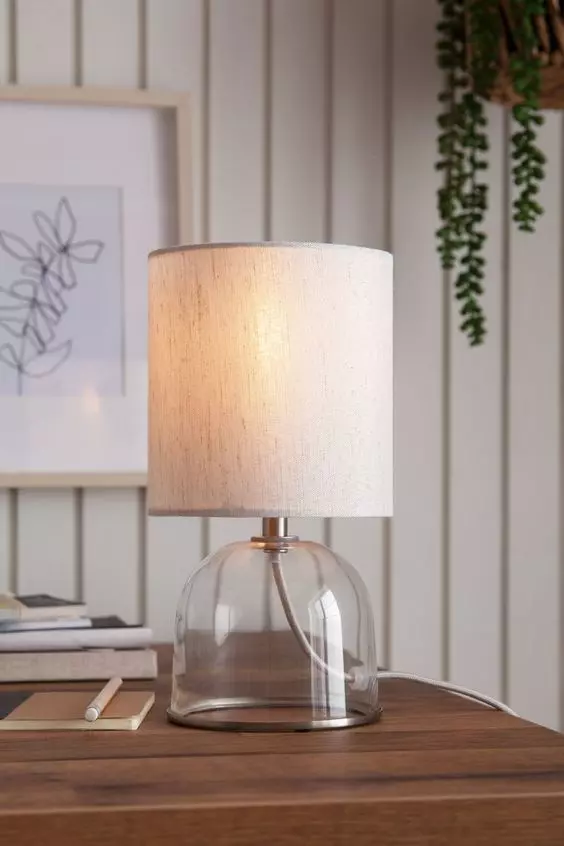 Since the bedside lamp is selected in accordance with the style of the interior, it is able to perfectly decorate and transform the appearance of the room – bedroom. Such a lamp looks quite unusual, stylish, and modern, it is quite light, weightless, interesting and perfectly copes with its main and primary task, which is to serve as an excellent source of additional lighting of the room. Moreover, it would fit in any interior and would not overpower or weigh it down. That lamp provides night, atmospheric light that will tune in, relax, and prepare for sleep.
#6 A very cute and gentle bedside lamp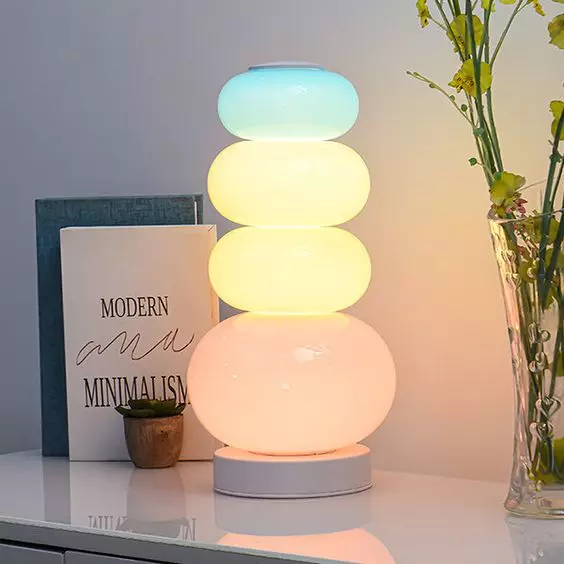 This lamp can be used for bedtime reading or as a night light, put two identical models on either side of the bed or combine with pendant lights and sconces to create more varied lighting scenarios and a more dynamic interior. It is very delicate and looks very nice and modern and stylish at the same time. Due to this light and streamlined shape such a lamp does not weigh down the interior and does not spoil and does not affect the overall style and design of the room. And since this lamp is made of glass it diffuses light around the room perfectly and if there are two such lamps respectively on both sides of the bed the light will be very bright, and it will be more than enough for reading an interesting book before going to bed.
#7 Modern high stylish bedside lamp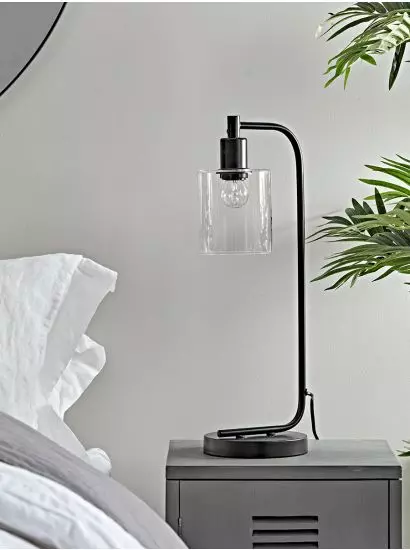 These lights for the bedside table – just an incredible find for fans of such elements in the interior. It is very stylish and incredibly beautiful, and in order for it to fill your bedroom with coziness, it is better to screw in lamps, which emit not cold light, but warm light, so you will provide yourself a pleasant relaxing atmosphere and an incredible comfort in your bedroom. The fact that this lamp is on a rather high stand, it is able to provide the perfect light for reading a book or doing any activity that is included in your evening routine. But here's just one but: it is better not to choose such a lamp if your bedside tables are high, because then the duo of a high bedside table and a high lamp will look the most strange and ugly.
#8 Extraordinary modern minimalist bedside lamp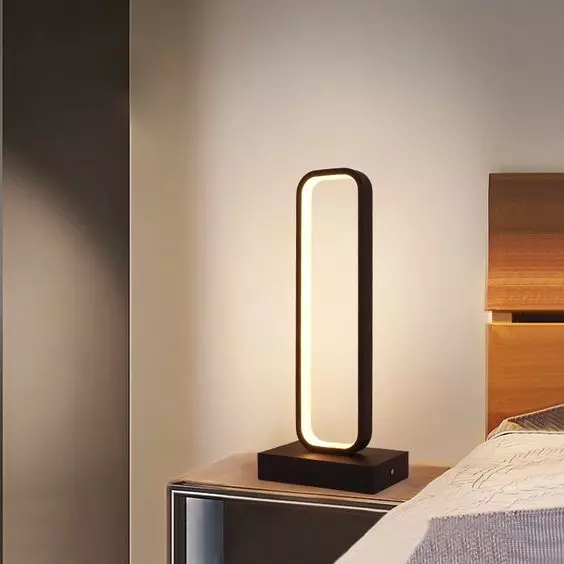 This lamp is simply the most that is modern and minimalistic, but then again, since it is so high, the bedside tables should be correspondingly low. With them, it is comfortable to watch TV, read your favorite interesting book, or relax after a day's work. Also, you do not have to move at night in complete darkness. Such a lamp makes the interior most stylish and modern, in addition to the excellent performance of its main function. The color of the body of such a lamp can be chosen according to your preferences and wishes, well, of course, in accordance with the color scheme of your bedroom.
#9 Modern gold bedside lamp with green feathers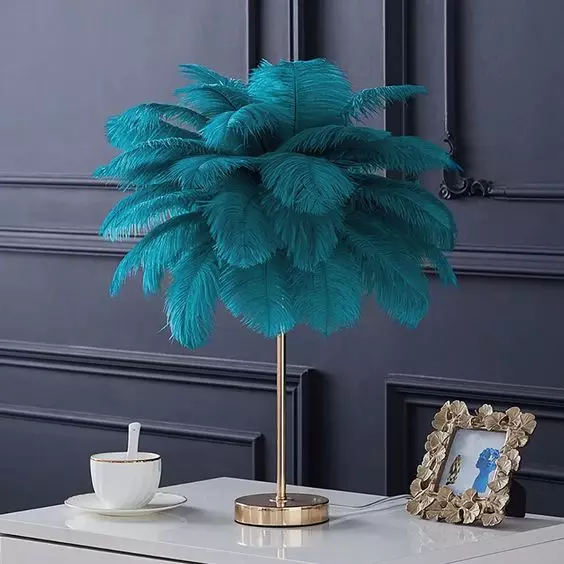 Incredibly stylish and modern chic lamp on the bedside table can make your interior play with new colors. This lamp on a gold base and with dark green feathers looks simply chic and irresistible, except that it serves more as a decorative element than as a source of additional lighting for your bedroom. But if you are willing to sacrifice these moments when choosing a lamp for the bedside table, then this lamp will be perfect for you, and will perfectly complement the interior of your bedroom. Agree, quite an unusual solution as for a lamp on the bedside table, but it will become the main element in your bedroom.
#10 Modern rose gold bedside lamp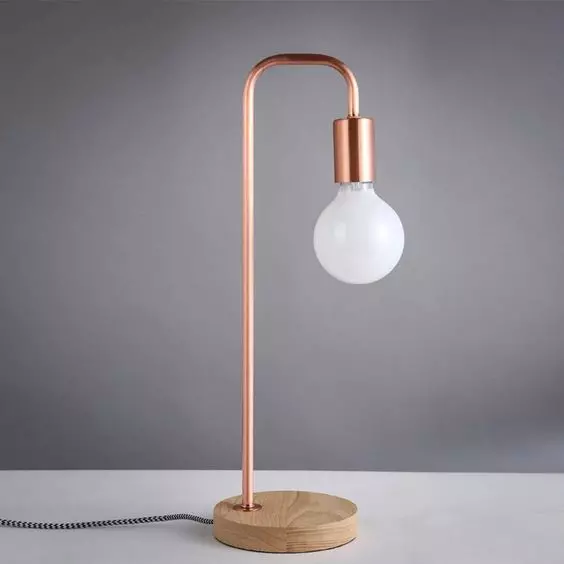 If you are a fan of maximum minimalism, then this bedside lamp is definitely for you. Despite its simplicity and the presence of only one bulb, this lamp is able to illuminate the space of your bedroom quite well and brightly, the plus is that you can replace the lamp with another, for example, one that emits a warmer color, or cooler, based on your preferences. Moreover, such a lamp can serve not only as a lamp for the bedside table, but also just a table lamp, because its leg is quite high and will allow you to comfortably write or read a book.
Video Review
View price and Buy