Best Wifi Smart Light Bulbs Available for Everybody
The smart technologies of the future slowly conquer all the aspects of our lives. Nowadays smart elements are integral attributes not only of gadgets but also of household items. They've managed to reach the field of lighting when the first wifi light bulb was presented in the market.
The smart lamp is a brand-new word in the world of innovative devices. This type of lighting devices is a real fundament of smart house system that can be easily operated by a mobile device or a special hub that is adjusted for work with the lamp. The device is capable to shift hues, brightness and light temperature together with a range of other helpful functions.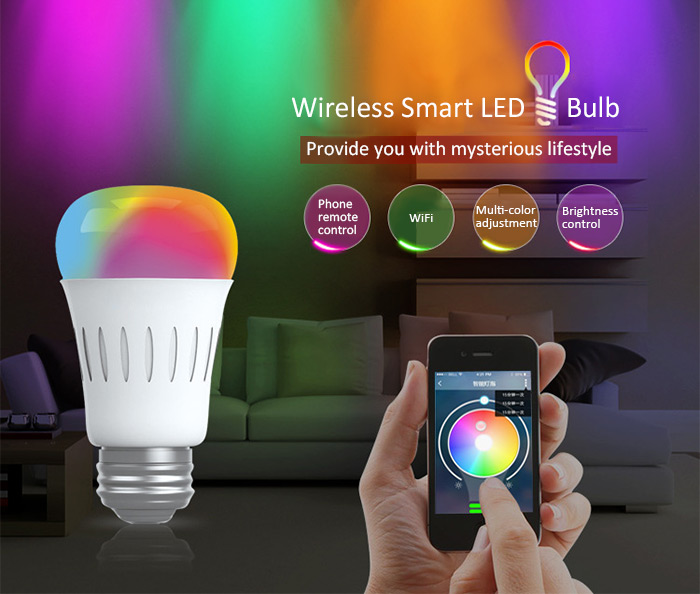 The market demonstrates a wide selection of best smart light bulbs which will not only get rid of darkness but will also create a special atmosphere in the place where it is located. The functional spectrum of the devices has left the standard borders and now people can see that such items are created not only to save money for electricity but perform a wide range of functions which can be helpful in daily exploitation.
Here you will read basic information on best smart bulbs and how their functionality will improve the everyday life. Finally, you will read some information on the best representatives of the class with both benefits and possible flaws.
Special Capabilities WiFi LED Lights that Can Become Helpful
The word "smart" that is used with lamps is not a marketing strategy but a real proof that it is a part of the upcoming future. Due to a special construction and capability to connect to the smartphone, it can perform the following functions.
They provide flexible dimming
The gadgets do not require any additional equipment to provide the dimming function. With a software, the user can easily control the brightness and pick the most appropriate level depending on the situation. Another extra pleasant feature regarding the dimming function is its safety and absence of noise.
The lamps are universally controlled
Wifi light bulbs can be controlled from any location while the lamp is connected to the Internet. It is possible to adjust a remote schedule while you are away so that the lamp was capable to simulate the illusion of presence at home. You can remotely turn it on and off when it is necessary.
The smart lamps shift colors
The brightness control is, of course, important but smart lamps have made one step further – they can easily change colors to several millions of options.
Very often a color change can serve as an excellent mood catalyst. The bright light colors can stimulate a positive mood and energy flow while darker colors can relax and remove tension from the eyes. Additionally, you can select the light that will match the interior of the room where a lamp is placed.
It can become a party tool
Some of the most awesome models are equipped with a speaker that can transmit your favorite music. Together with the color change, it can transform the simplest premise into an extraordinary party hall. Yes, the music will not be the loudest one but still it can be enough for listening in the company of friends.
They can adjust the rhythm of sleep
The top-level wifi light bulbs establish a normal level of sleep through creating the most favorable light for gaining an adequate amount of sleep. It can serve as a fine alarm clock that will wake up with a soft light that will remove the slumber in a non-aggressive manner.
What to Consider while Selecting the Lamp
The marketplace is flooded with an abundance of smart lamps and it becomes really hard to select them. Here are some points to consider while selecting the most appropriate variant for your smart house system.
Energy and brightness level
As any standard bulb, the smart options differ according to the consumed electricity capacity. As a rule, it is far lower than the one of standard bulbs. Another characteristic is a flow of light parameter. The higher it is – the brighter it will shine.
The lamps are different by size and type. There are standard, led and projector smart lights. The first two types are installed in the premise while the other two types are more applicable for outdoor use or for offices.
This is one of the most important parameters. Due to the high cost of the unit, the period of work is supposed to be rather high and supported by a warranty service. Pay attention that for some lamps the exploitation term is measured in years, while in others the work hours are printed on the item.
Some lamps are not compatible with automatized lighting systems and you need to check the available options to select the most compatible solutions in terms of the configuration of the communication systems. In case of the existence of a preinstalled system of a smart house, it is advisable to recheck the compatibility of the units.
The final point to consider regarding the bulbs is the functional array of the presented models. It is a good idea to look through existing variants of the lamps so that you could select the most suitable one for your personal case.
The Cheapest Smart Bulbs for Every Smart House
Here you will find the reviews of some of the most popular lamps available on the market with different functions that can be easily purchased and installed in your house.
Element Classic by Sengled – A19 Soft White 2700K Smart LED Bulb
This model introduces a fine starter specimen for the installation in the system of a smart house. It can be used together with most of the hubs as the lamps are operated through an individually designed software that is available on various platforms. With this model, you will be capable to establish control over the house lighting regardless of your location. It can be done even from the overseas.
Pros
It has got a very reliable construction.
It is a fast synchronizing device.
The model is rapidly activated.
Dimmer function is available.
Cons
The constant connection to electricity is mandatory.
Flux Bluetooth LED Smart Bulb – Wireless Multi Color Changing
This stylish metal coated lamp introduces a fine example of a stylish device that grants limitless options of the light control in your premise. Within the range of 16 million colors, you will be capable to select the most appropriate light to suit your needs. The bulb will become a nice party tool as it syncs with a mobile device to produce music and change colors for some awesome special effects.
Pros
It has got sleep control function.
The model is equipped with speakers for playing music during parties.
You can use it with voice assistants.
Cons
The light is rather weak.
When you are out of electricity it removes all the installed timers.
It is more applicable to smart systems than for a single use.
Kasa Smart Wi-Fi LED Light Bulb by TP-Link
This particular smart bulb does not require any extra special hubs to be installed to sync with the item. Everything is done by means of installing the lamp into a standard fixture and connecting it to the Wi-Fi network.
Your smartphone will become a remote control and a console for programming of the device. It will assist in establishing the schedule of turning on/off and adjusting the brightness depending on the daily situations.
Pros
It is easily operated through the official application.
It can shift between several millions of colors.
It can produce light shows.
The lamp software is constantly updated.
Both Android and IOS users can enjoy it.
Cons
Can't connect via PC or laptop.
It can't be used in 5 GHz Wi-Fi.
It is controlled only within the home network.
LIFX (A19) Wi-Fi Smart LED Light Bulb
LIFX introduces a stylish model of a smart light bulb with attractive features and a built-in Wi-Fi module. Never before the lighting experience has been so close to the scripts introduced in the fantastic movies.
It can produce equally effective bright and relaxing hues which will perfectly match your mood. It is synchronized with most of the popular smart house systems so it won't be a problem to select the most attractive variant.
Pros
It is compatible with numerous smart operational systems.
You can pick any of 16 million hues and change of the color is nearly instant.
It is equipped with the dimmer for a better brightness selection.
Cons
The model has got a weak Wi-Fi module.
You can't control the lamps outside the native network.
LIFX Mini (A19) Wi-Fi Smart LED Light Bulb
When we are talking about the smart lamps, it might appear that the size doesn't play a great role in the efficiency of the device. This item has all the features of smart lamps which are cherished by people and all of them are placed in a miniature shell.
It can be controlled by both mobile devices and Windows operated systems. You can regulate the bulb in a manner that will come to your liking – time scheduling, color regulation, temperature, and brightness control.
Pros
Can be used with any fixture.
You can connect to this model via the computer.
Extremely energy saving.
Cons
It has no built-in accumulator.
Philips Hue White A19 60W Equivalent Smart Bulb Starter Kit
This is an item that symbolizes the quality of smart devices. Being one of the most reliable manufacturers, Philips managed to create a top representative of the class. This is a starter kit with two lamps and a hub for installation of an entire smart house system to which you will be capable to connect all the future smart lighting devices.
Pros
The software is easy to master.
A superb quality of Philips is often a decisive factor.
The lamps are dimmable.
They are synced with all popular OSes.
Cons
You need to connect a synchronizing bridge directly to the router.
There is no option to change color.
It won't work without a console.
LOHAS Smart LED Bulb, Wi-Fi Light, Multicolored LED Bulbs
Here we have another fine representative of lighting equipment that can be used equally effectively with Android and Apple gadgets. The lamp is equally effective in terms of both energy saving and functional array. It can serve as an alarm clock for waking you up with a constantly growing light. The selection of colors for a special occasion and other features prove that this is a worthy investment.
Pros
It offers all colors with shifting brightness.
Several bulbs can be used simultaneously through a single app.
There are special presets for several occasions.
No need for extra equipment.
Cons
There are some issues with multi-device pairing.
For some people, the colors are too bright and non-natural.
It works within a 2.5 GHz network and you might need to adjust the phone to detect the device.
There are cases when the router reboots while working with this smart lamp.
Doesn't work with Apple.
Brizled Smart Light Bulbs, A19 60W Equivalent Smart Bulb
The Wi-Fi lamps are extremely practical in the household and this option is not an exclusion. After turning it on and syncing it with an available network, you will gain an awesome source of light that can be fully customizable as the owner desires. Additionally, you can use the presets of the lamp's software for some particular moods. It can be done regardless of your location.
Pros
Can be voice operated.
Introduces a rainbow of colors for the best interior matching.
You can control it regardless of your location through the smartphone app.
It is possible to set the schedule for waking up.
Cons
It has connectivity issues with Alexa.
5 GHz router compatible only.
Depending on the socket it might not be bright enough.
Novostella Smart Light Bulb, RGBCW Wi-Fi LED Bulb A19
If you need a reliable source of light this model will be a perfect solution for your needs. It introduces an effective 2.4 GHz module that instantly connects to the network.
All of the millions of colors are fully dimmable and you can select just an appropriate brightness that is comfortable for the eyes. It is both remote and voice-controlled piece of equipment. There are schedule functions which are awesome for busy people.
Pros            
It is equipped with voice and gesture control.
Shift colors according to the mood.
The model corresponds all the safety standards.
Equipped with a scheduler.
Cons
It is somewhat dimmer than other popular models.
The option takes time till it shines at the fullest capacity.
Smart WiFi Light Bulb, LED RGB Color Changing
The Lumiman model introduced here is one of the options which do not require the purchase or attachment to a special hub. It is one of the most affordable smart lamps in the entire market. It is compatible with both Amazon and Google smart house systems and is operated through an application on a smartphone. Although it is limited to white color only, it introduces numerous options for the utilization.
Pros
The installation process won't take more than a minute of your time.
The model is compatible with all modern smart home systems.
Voice control and color change are added to the model for a greater functional array.
Cons
The classic size of the model might not fit all the fixtures.
ESOLOM Smart Wifi Bulb with Alexa and Google Assistant
No products found.
The peculiarity of this particular light solution lies in its applicability with 3G/4G networks aside Wi-Fi. The model can be installed virtually anywhere with a network available. It has a personal application which allows voice and gesture control and can be installed on all types of devices. The light modes and reminder in the app will become excellent assistants in a daily routine.
Pros
It works with mobile networks like 3G and 4G.
The control is available regardless of your location.
The model goes with 2 years of full service and warranty.
Cons
It is impossible to change brightness as you wish.
IVIEW-ISB600 Smart WiFi LED Light Bulb, Multi-Color, Dimmable
No products found.
Here we have another simplified model of a smart lamp with a built-in wireless module. It makes the installation procedure easier and more affordable as there is no necessity to purchase separately an extra hub that is a rather costly piece of equipment. An option to save 80% electricity with famous smart options like remote control, scheduling, and color selection at low cost sounds really attractive.
Pros
The model is said to work for over 30k hours.
It can boast with 16 million colors.
No need for extra equipment.
Cons
After several years there might occur a minor flickering of the diodes.
The application is slow.
Smart Bulb, BAIVON 7W WiFi Wireless Remote Control Smart LED Bulb
No products found.
This remote control piece of light will be perfectly matching Alexa and Google smart house systems. It can be fully controlled through the smart gadgets which are in your possession. The wireless connection is established rather fast by means of either Android or iOS devices. The lamps can be controlled either separately or simultaneously for gaining a greater effect.
Pros
The model is easy to control.
All the benefits of a smart lamp are at a rather attractive price.
The group control makes it easy to operate a smart house system.
Cons
No Apple connectivity is available.
A weaker network adapter can be a problem in areas which are far away from the router.
Pack of 2 WiZ Colors WiFi connected smart LED BR30 bulbs
This model will suit if you prefer the white color most. It introduces several thousand shades of white color from extremely bright and cold to warmer and duller.
The lamp has an instant connectivity function that allows minimizing time upon the installation of the equipment. It has extra presets for some daily occasions where the light is auto-adjusted according to the recommended prerequisites. Movement control is another pleasant feature that makes the model more helpful.
Pros
High durability of the construction.
Comfortable remote control.
60k variations of white color.
Apple and Android compatibility is present.
Cons
Limited connectivity outside the home network.
Frequent issues with pairing.
Although it might seem that an opportunity to make the house smarter is not the cheapest luxury to afford, it appears a spectacular investment into the future as it will provide a long-term service. It is a good idea to install them one by one, making the life more comfortable and pleasant.
View price and Buy