Octopus lamps – 10 performed solutions with detailed structure for your room
#1 Octopus Chandelier
This octopus lamp looks truly gorgeous! The designers who created this lamp must have been very generous to the details as this deep water being looks like a real animal. Overall, this item seems a stylish accessory that would be suitable for a premise of any decoration. Overall amount of 7 lamps, hidden in fancy cocoon shells will definitely grant plenty of light.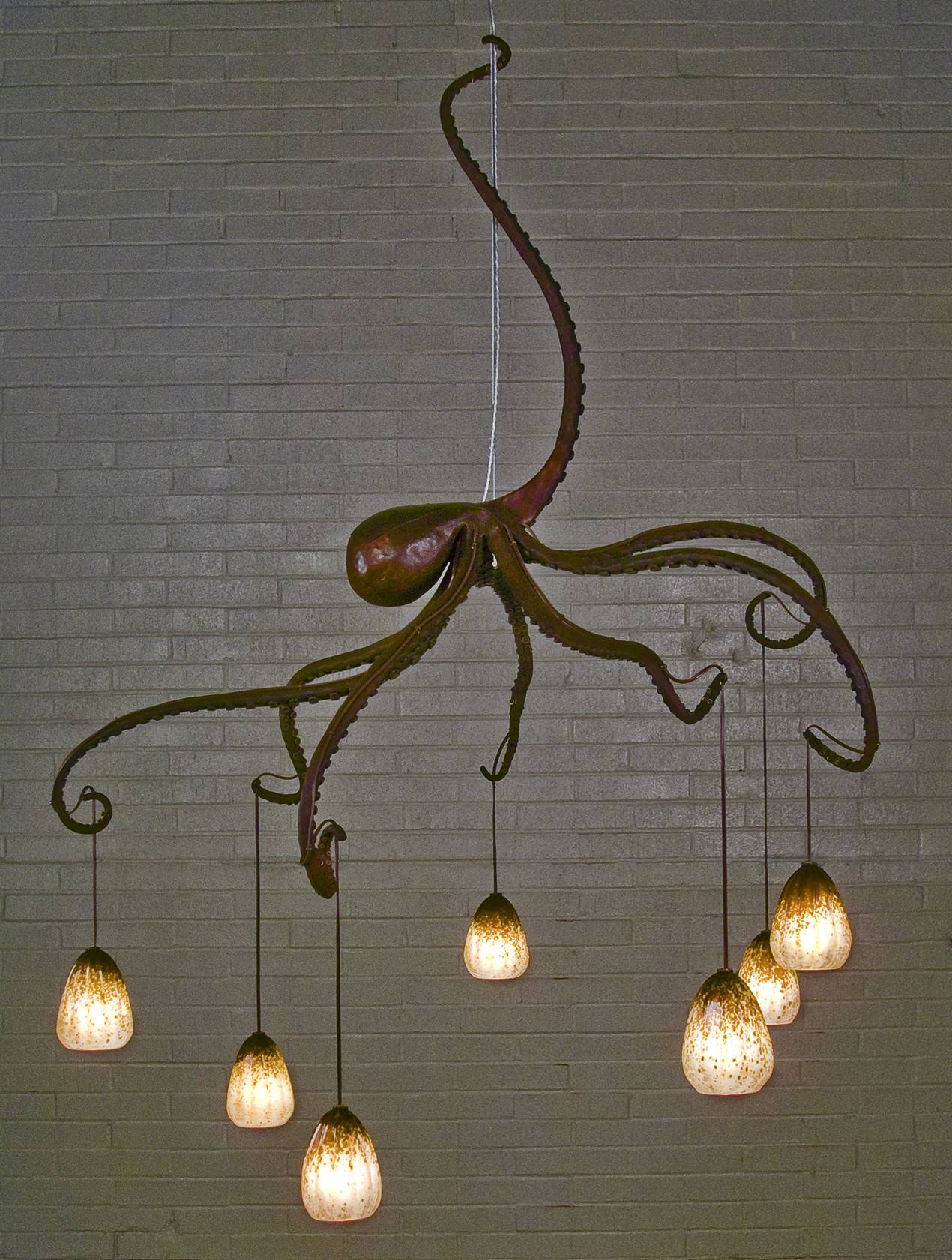 #2 Octopus sphere
The lamp will look splendid in any sort of classical designed room. It has got both metal and glass elements which make this lamp look truly expensive. The fantastic design of the octopus that catches its pray in the air bubble, hugging it tightly with its tentacles, seems very attractive. The light is somewhat dim at first glance, but it can be made brighter with a more powerful lamp.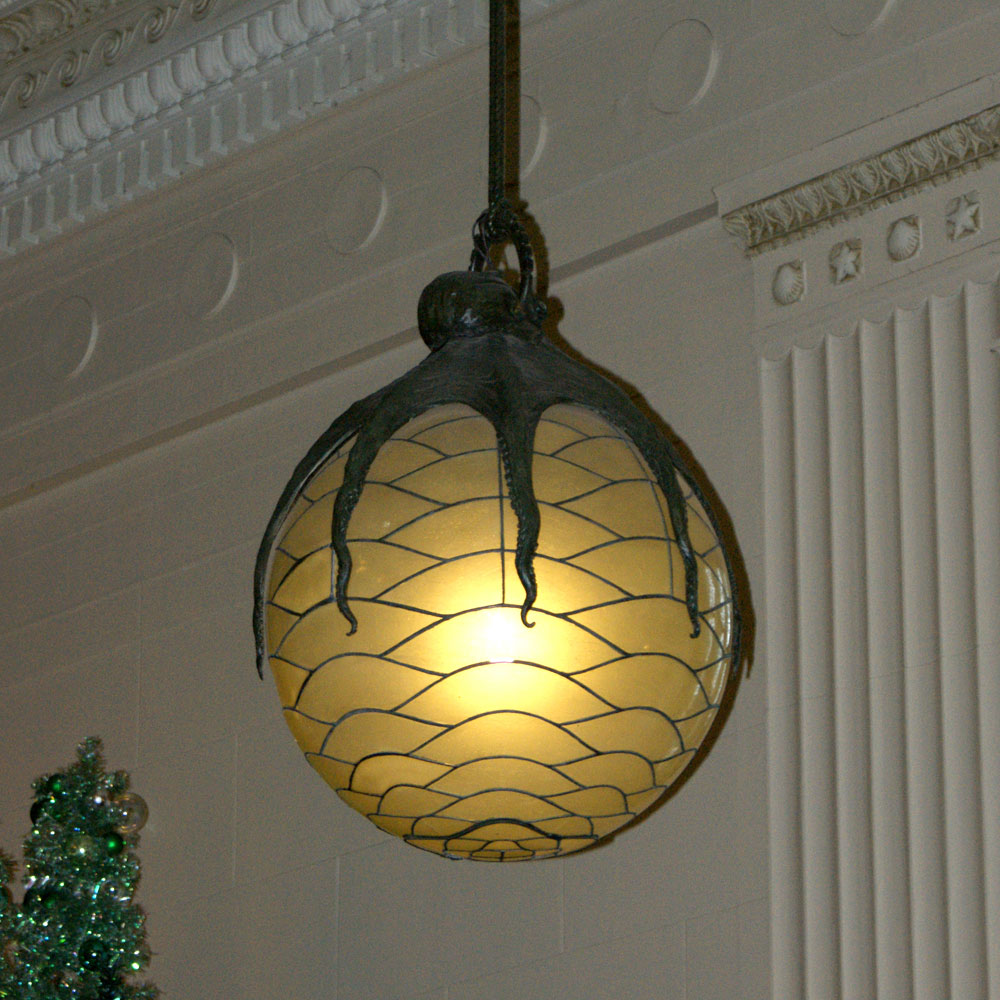 #3 Blue Octopus
This designer solution is performed in a beautiful azure color and has a very detailed structure. Although it may seem that the item is made of plastic, in fact it is cast of aluminum and painted with fine acrylic paint. It explains the unique pattern of the color on the items. The luster look amazing in some room decorated in dark colors or blue ones.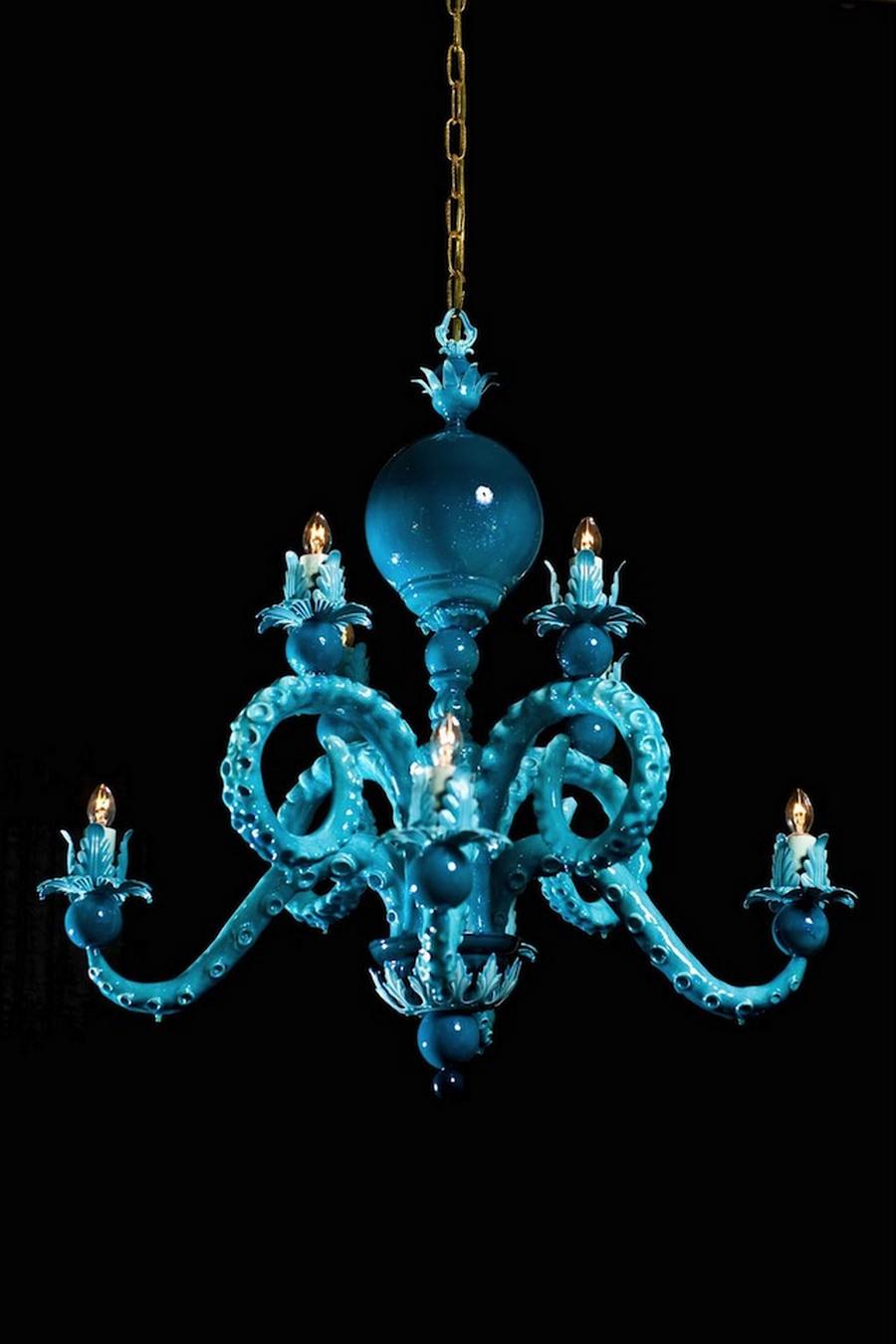 #4 Mosaic monstrosity
If you think that you saw everything, then this mosaic lamp will break your stereotypes once and for all. The octopus is performed in a metal shell and filled with pieces of tiny mosaics of various hues to correspond the natural colors of the animal. It greedily holds the eight lamps with its tentacles, ready to enlighten the room and cast grotesque shadows on the walls.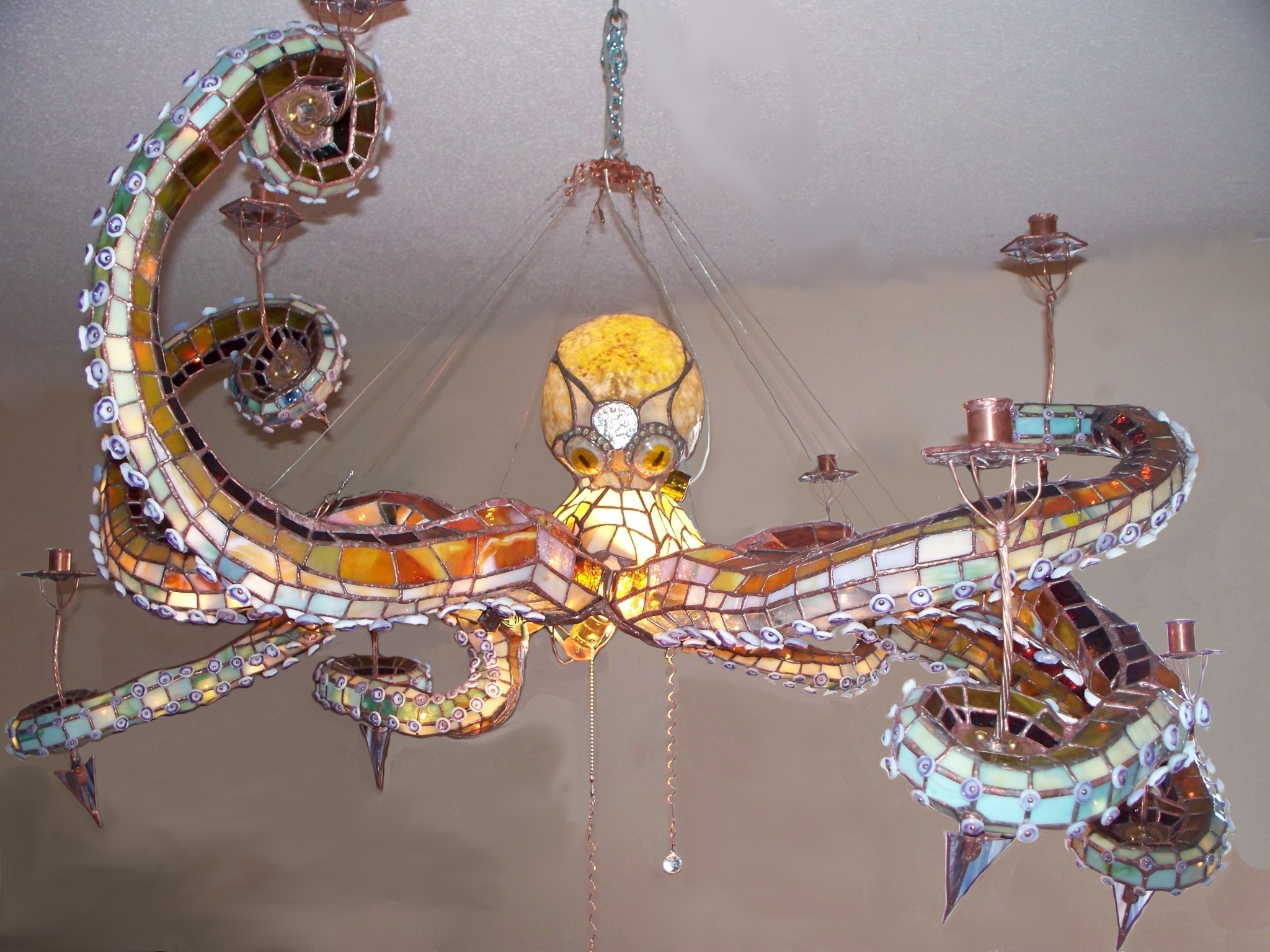 #5 Space Squid
These futuristic lamps will surely decorate any premise of modern style. They grant colorful light and are ready to decorate even the gloomiest places. They look like some characters from 3d graphics cartoon like from Pixar movie. Besides, the shape of the blue octopus lamps resembles the silhouette of Squidward from SpongeBob Square Pants quite a lot.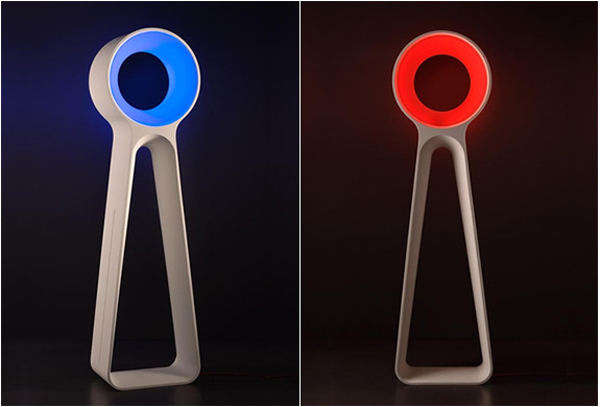 #6 Jellyfish Octopus
This is another representative of modern art. These models of octopus lamp look really airy and weightless as if they were some sorts of jellyfish which are swimming in the water. The items look like statues and they will definitely find a nice place on some writing table or bedside one to illuminate everything around.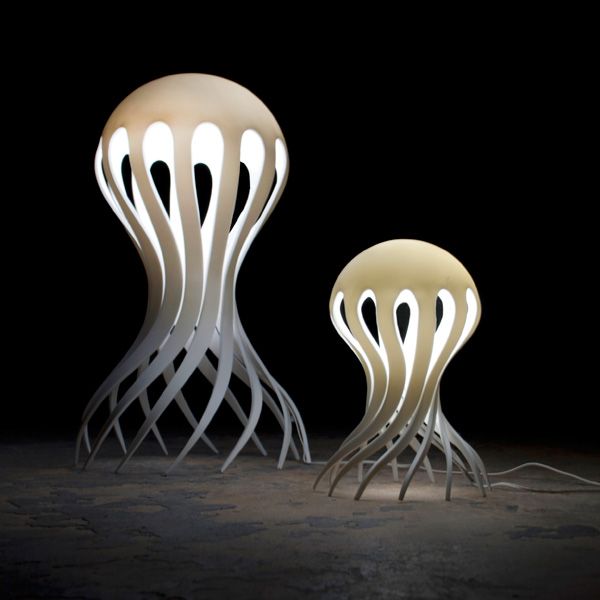 #7 Tiny Table Octopuses
These alien looking lamps are in fact stylish tiny octopuses. They are perfect for those people who like unusual geometrical solutions in their interiors. These cute little octopuses look like images of some work by Salvador Dali. They do not offer much light and serve more like a decoration, but these lamps will work fine on a bedside table, for example. The colors are not limited by these ones and there are many options to pick from.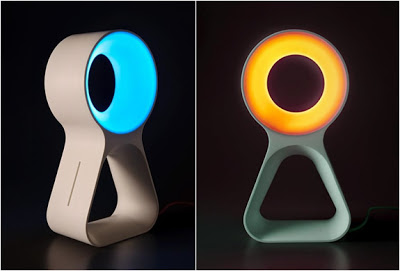 #8 Deepwater Octopus Lamp
This lamp is like a real masterpiece of lamp art. It would definitely look organic on the table of the most famous captain in the world – captain Nemo. The elaborate design of the lamp is truly unbelievable. It will match any classical design and add some peculiar charm to the room it stands in. The glass shade and the forged knitted covering of the stem make the item look more grotesque and noir like.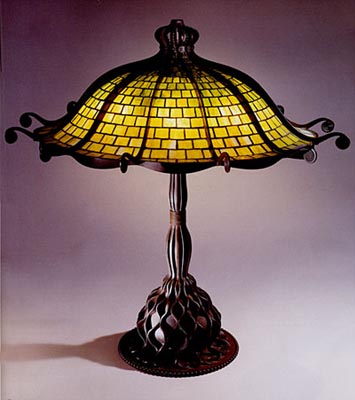 #9 Floor Octopus Lamp
It looks more like a tentacle of a giant squid, a trophy from a kraken that stands on your floor being transformed into a lamp. The item has got plenty of hues available and the beams of light are refracted through the holes casting picturesque shadows on the walls and adding some magic to the dwelling. The lamp will find its place in the apartment of some creative person who likes everything unusual.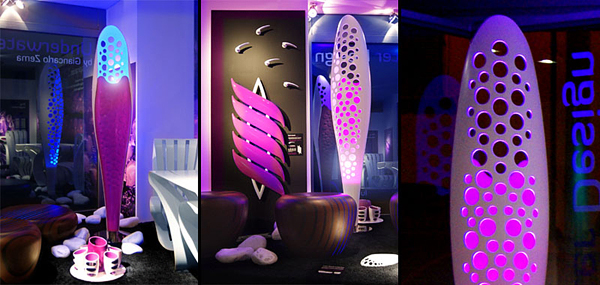 #10 Cute Little One
This pretty little sweetie is only six inches tall and 7 inches wide, but it will grant plenty of light through the amber colored shade. It will be an excellent gift idea for those people who like these mystic underwater beings. It's an excellent combination of metal, glass and marble. Such an unusual pet will look quite interesting on the desk of some writer and will work as the source of inspiration.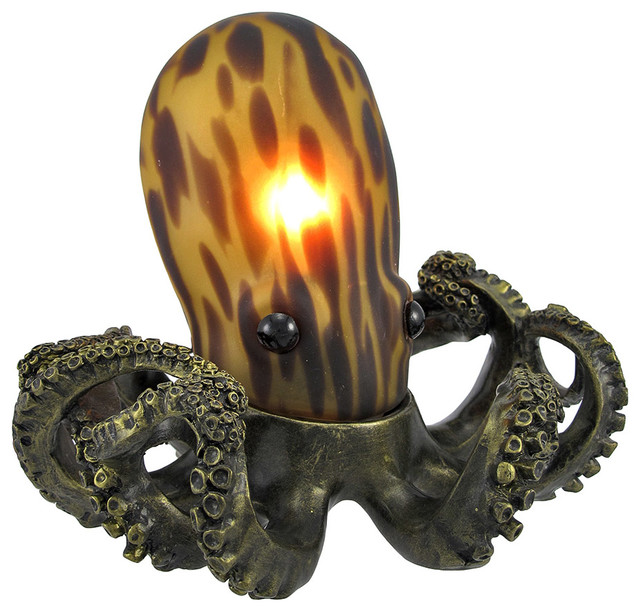 Video review
View price and Buy