Get moroccan lamps to bring the Oriental magic to your room
Moroccan decor signifies opulence and grandeur and is popular for its ornate design, bold and vibrant colors and rich metallic accents. If your looking to spice up your room and bring some of the oriental magic to your room, Moroccan lamps will help to add a sense luxury beauty and style to your room.
Introduction
Moroccan lamps carry the rich culture and heritage of Morocco which makes it grander than any mass produced lamp which you can buy. Moroccan lamps carry the oriental charm within their exquisite design and bring a dazzling and romantic ambiance to your room.
Materials
Moroccan lamps are made of brass and its stained glass is made in sapphire, ruby, emerald, amethyst and topaz shades. The glass has beautiful motifs carved into it which light up beautifully when light passes through it.
The shade is made of sheep or goatskin and is hand painted in vibrant colors with the patterns drawn in the decorative style of the traditional henna design. Moroccan lamps cast a delightfully warm and intimate light on your room and can be placed anywhere in your room.
Conclusion
Moroccan lamps are a symbol of luxury and grandeur and will definitely add to the beauty of any room you place it in.
#1 Eco Friendly Morrocan Lamp
The item is made of fully recycled materials and is really ecofriendly. This is a true art of eastern tradition that will charm you with its light during the night and its nice shapes will attract your attention during the day. This masterpiece creation would fit any unusual interior. The intricate structure of the shell will cast marvelous shapes and make the viewer relaxed.
#2 Swag Lamp for Rest
This stylish accessory is the thing that will definitely catch your eyes immediately when you see it by means of its wonderful shape. All the lamps are handmade by people and you can almost feel the warmth that was given by their hard working hands during the creation of this fine golden colored creation. This lamp is not too bright – 45-60W lamps are used, so it would be nice for some bedroom or romantic lunch.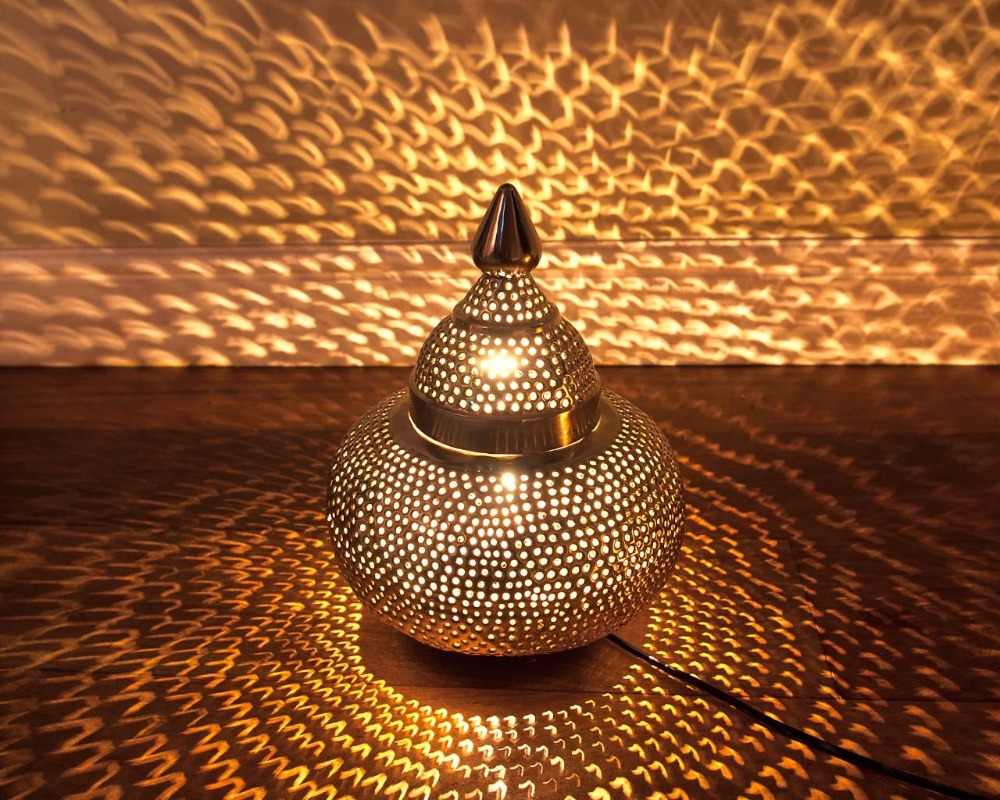 #3 Mosaic Pendant Light
This pendant light can be considered a real piece of art. It can become a focal point of any interior. The mosaic of a colored glass is specially made for creating a beautiful unusual ceiling. The glass is made of special scratch proof material and the manufacturer guarantees that the colors will never fade away. The wire and bulb holder are included in this model, so there won't be any need for additional expenditures.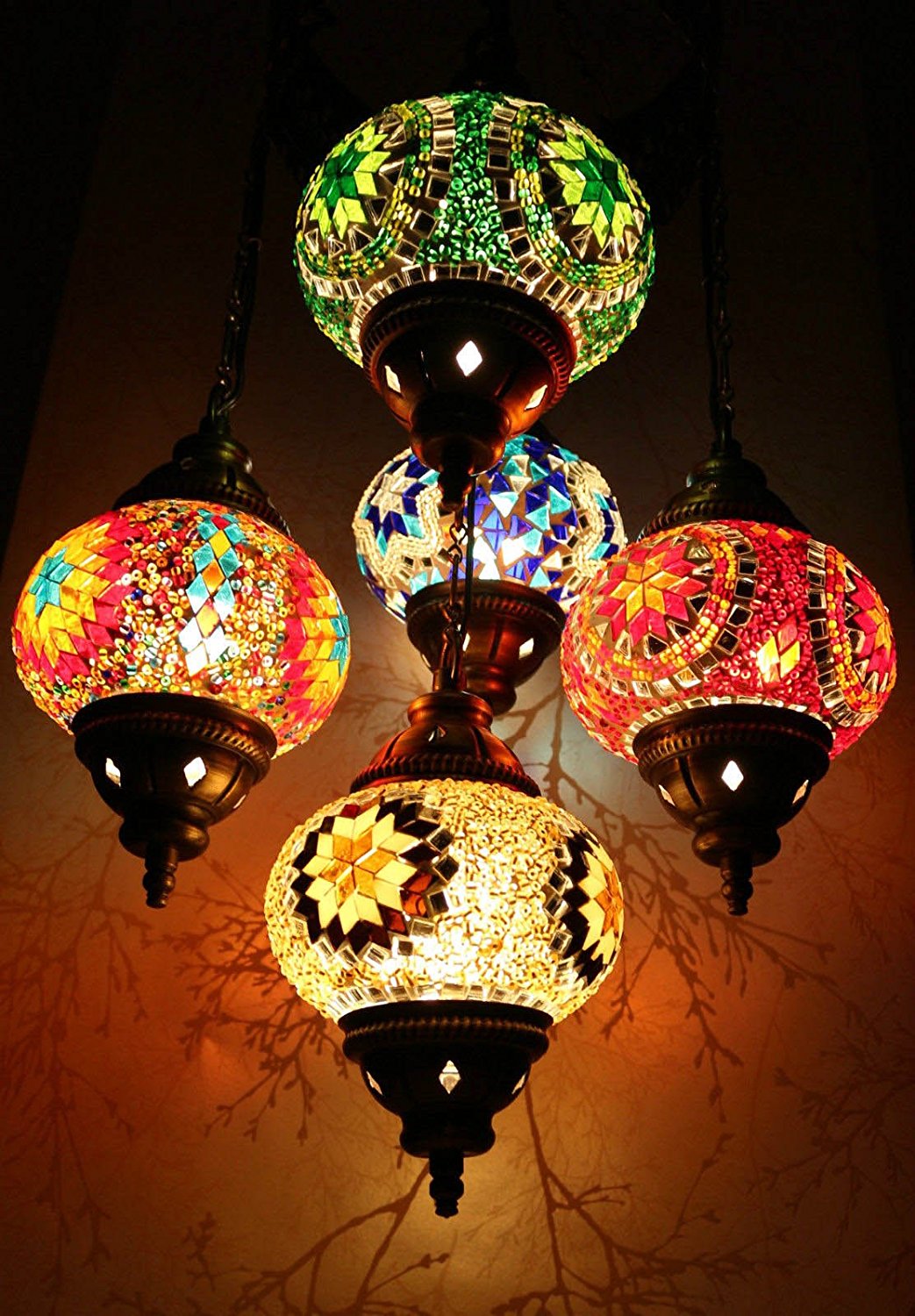 #4 Moroccan Cage of Light
This masterpiece of craftsmanship can be considered a real temple of light that will inhabit the walls of the cage and grant its brightness to all the worshipers. It can be placed either on a table or on a ceiling. The item is rather durable and is able to withstand strong stress. It doesn't give too much light, but it will be enough for a nice time spending.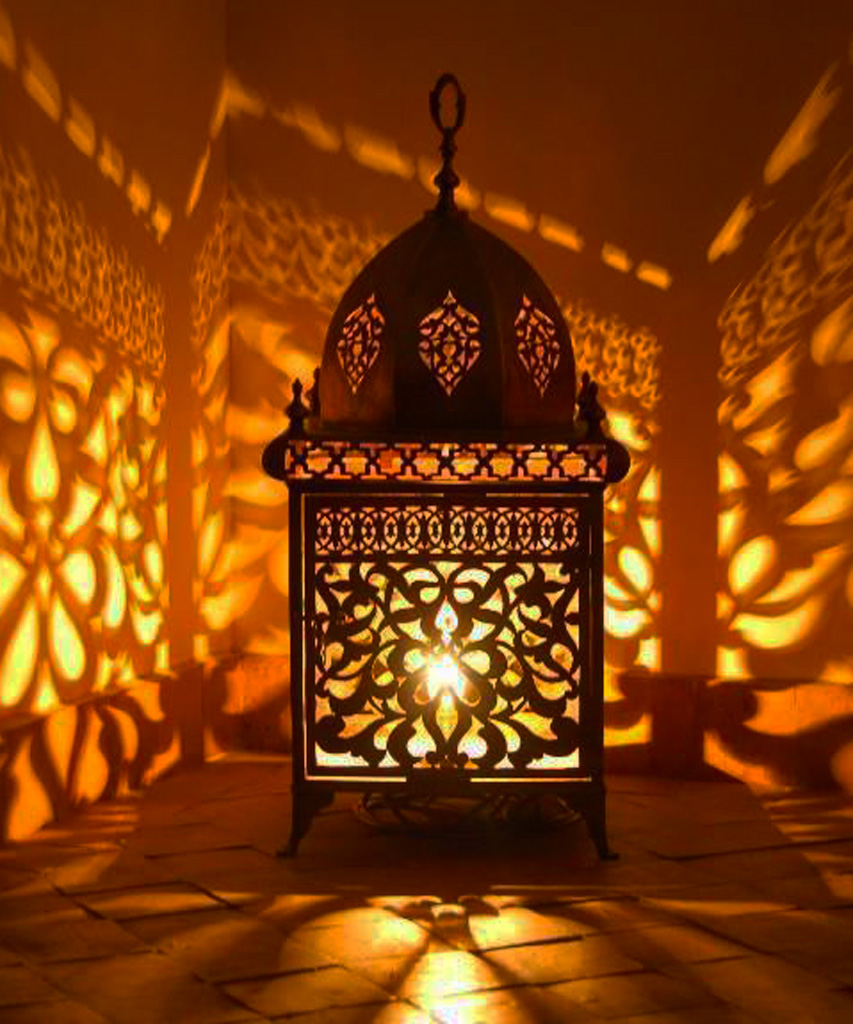 #5 Mosaic Pendant Splendor
This mosaic little wonder will add some magic to your interior. You can put it inside or outside the premise and it will look equally beautiful, regardless of the location. You can see three colored mosaic patterns: blue, yellow and green. However, there might be other variations of colors, so you need to ask before ordering.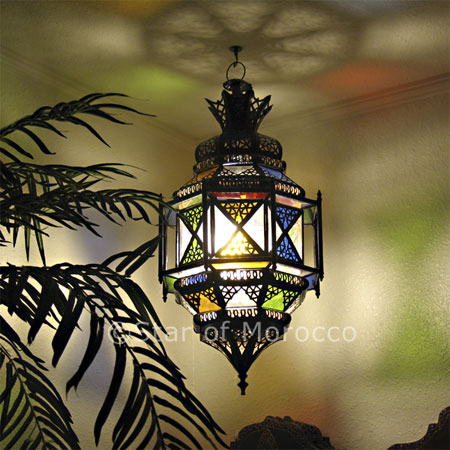 #6 Hanging Moroccan Wonders
These Moroccan handmade lamps will bring the magic of the Arabian fairy tale to your dwelling! The item is made of intricate pieces of glass which recreate traditional oriental ornaments. There are plenty of variations available for purchase and each has a unique charm that won't leave any person indifferent towards such a lamp.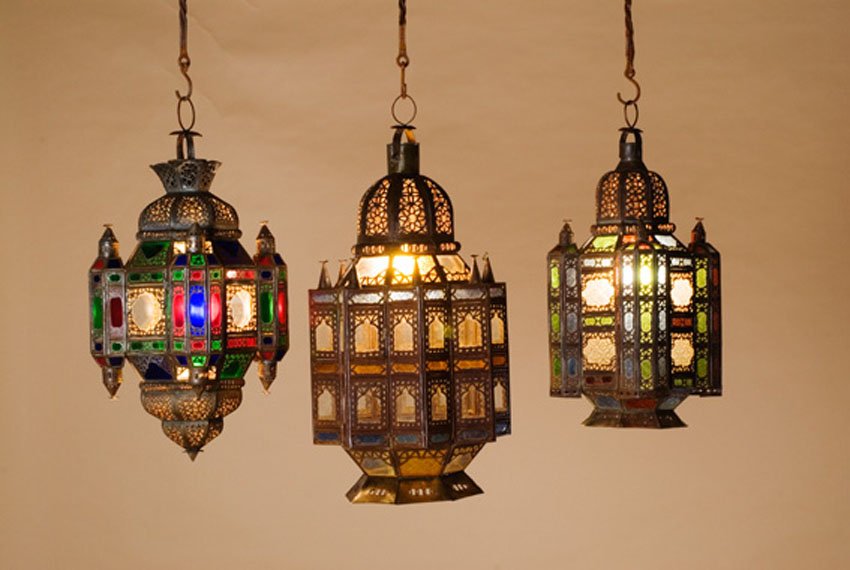 #7 Colorful Moroccan Crystals
These hanging lamps will become an excellent asset to any design whether it is a classical one, retro or modern style of house design. They are made of sturdy glass that has got a special anti-scratch coating and it is totally protected from color's fading away. The power of the lamps is about 40-60W, so you might need several ones to receive more light. Mounting them won't be a difficult task.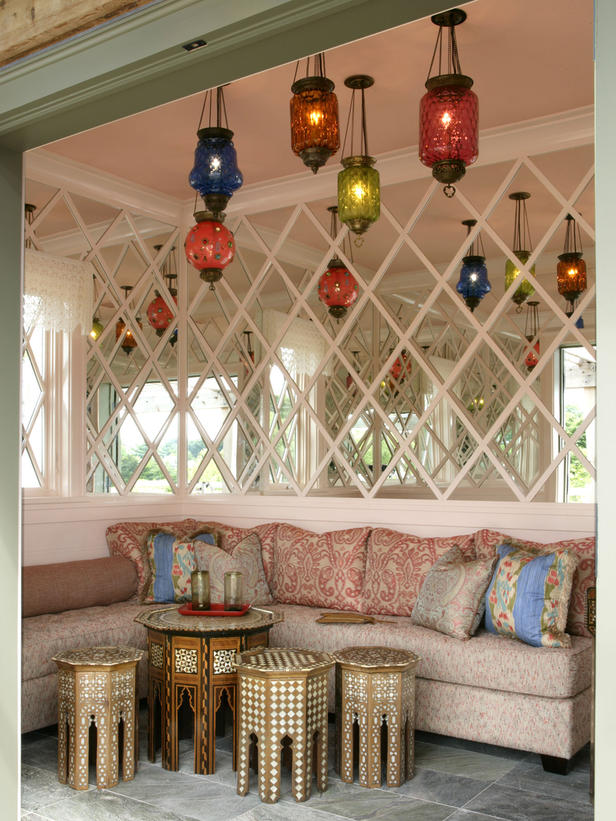 #8 Wonderful Moroccan Sphere
This beautiful Moroccan lamp is a splendid reminder of ancient times. It can be a nice present for everybody who likes unusual handmade lamps. It is about 35cm in diameter and uses three metal chains to hang above the ceiling. There are plenty of variations and color solutions for this type of lamp. The cord is not included but it can be easily attached and connected to the circuit.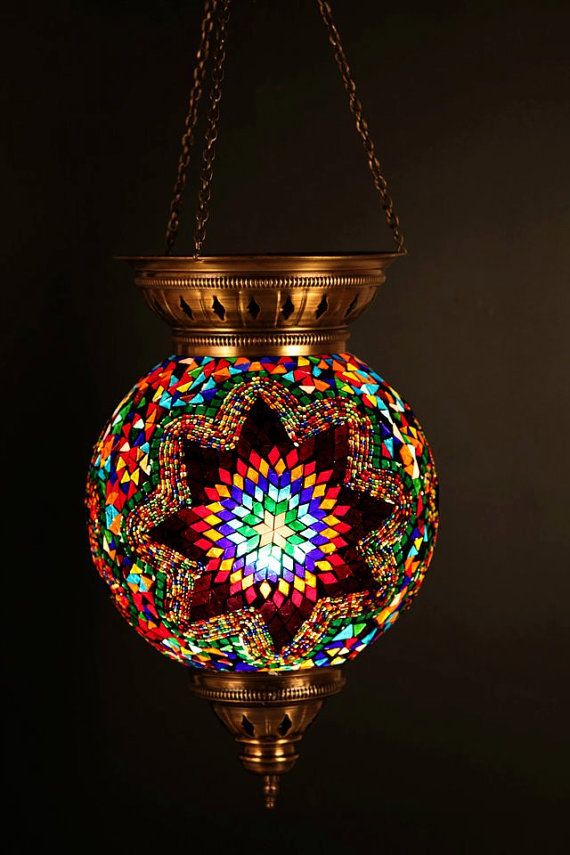 #9 Beautiful Geometry of Moroccan Style
The shapes of this unusual lamp are truly amazing. There is one powerful lamp inside this item that is refracted by means of top quality handmade glass. The colorful mosaics paint the walls into various colors which dance on the walls like fanciful figures. The construction is very reliable though it hangs on a single metal ring.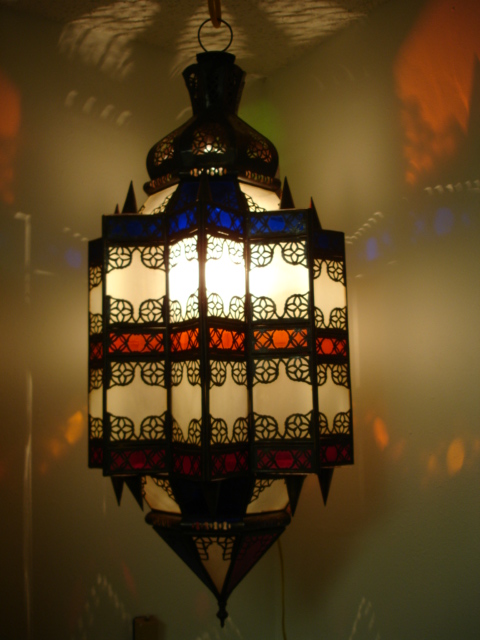 #10 Beautiful Moroccan Chandelier
As we all know the real Moroccan style has been developing for several decades and even ages. The stylish forging is a must have attribute of almost any lamp in this style. These models describe how gentle and elaborate are the shapes of these lamps. It is really hard to stay aside without thinking to add them to one's own interior.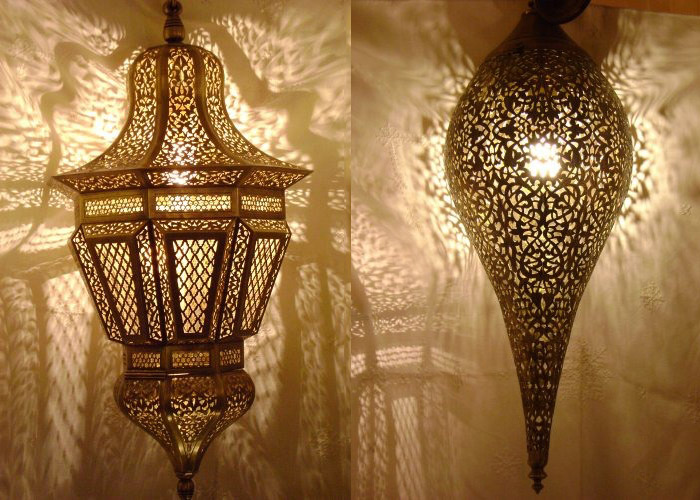 View price and Buy