22 Wonderful Helicopter ceiling fans
Normally, a ceiling fan is not an object that arouses any interest in the house. It is a mundane object that is not noticed as it constantly revolves above our heads. However, this should not be the case as you can change the ceiling fan into something that arouses interest and brings a sense of adventure into the room.
Changing the normal fan into a helicopter ceiling fan will not only improve the appearance of the room but will also give the room an exotic and original feel.
Make it creative
Helicopter ceiling fans are a chance for one to be creative through the implementation of several unique features and additives that will surely bring some spice into the room. These are decorative pieces that will not only appeal to the appearance of the room but will also add value to a mundane piece of equipment.
The helicopter ceiling fans can be installed in several shapes and sizes as well as being fitted with custom features like LED lights that will further increase its visual appeal.
Additionally, use of different colors and designs will enable the ceiling helicopter fans to be paired with a variety of room color schemes either to blend in or to stand out. One may also opt to paint the ceiling with the color of the sky in order to complete the flying chopper look.
New look of your room
With the helicopter ceiling fan, improve the look and appeal of your room while ensuring your comfort from the heat by installing the device.
These devices will not only appeal to your visitors but will also be a source of constant delight to the children by arresting their imagination. Installing lights to act as search lights or having a tail rotor will also work to give a more original look and leave your room with a unique and tantalizing view.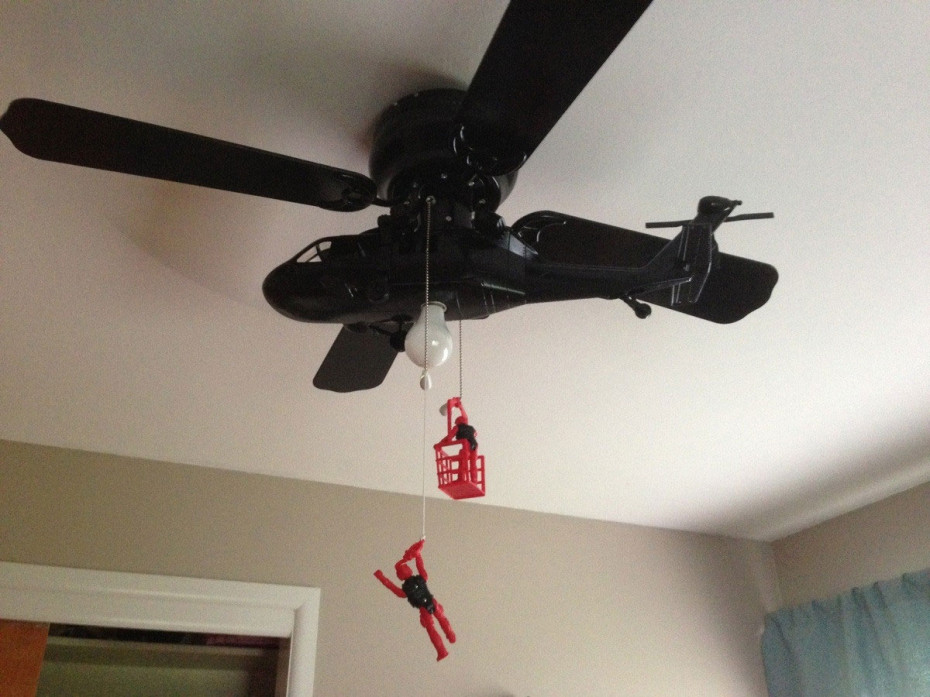 #1 It's Time for Saving
The fans have appeared on the market long before their more expensive friends – air conditioners. For many years the fans were capable of granting us a portion of fresh air during extreme heat and a lot of models were designed to match various interiors. This model introduces us a totally new perception of fans as it was made in a shape of a life guard helicopter and the control strings were made to resemble the saviors who are hurrying to give you some cool air.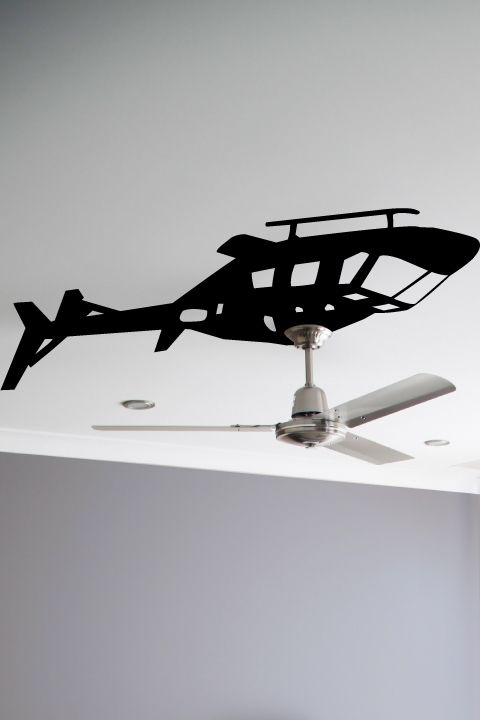 #2 A Game of Shadows
See the Decal Helicopter Fan that was designed to decorate your room with a stylish machine. A low priced vinyl makes the item rather affordable, especially, if you want to show some of your personal style and make the room look individually brilliant. There are all colors of rainbow of this shadow helicopter fan to match your unique design.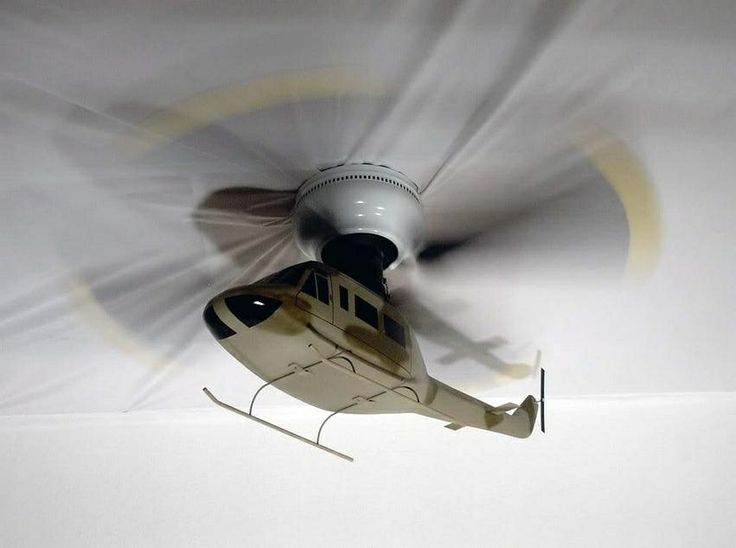 #3 Like a Real Deal
If your kid is passionate about modeling of aircraft and can't imagine his life without this hobby, you can always encourage him by decorating the room with this helicopter fan. It resembles a standard police patrolling model that is roaming the skies trying to detect the escaping criminals in the car. The model is performed in a very detailed manner so that a little make could enjoy you to the fullest.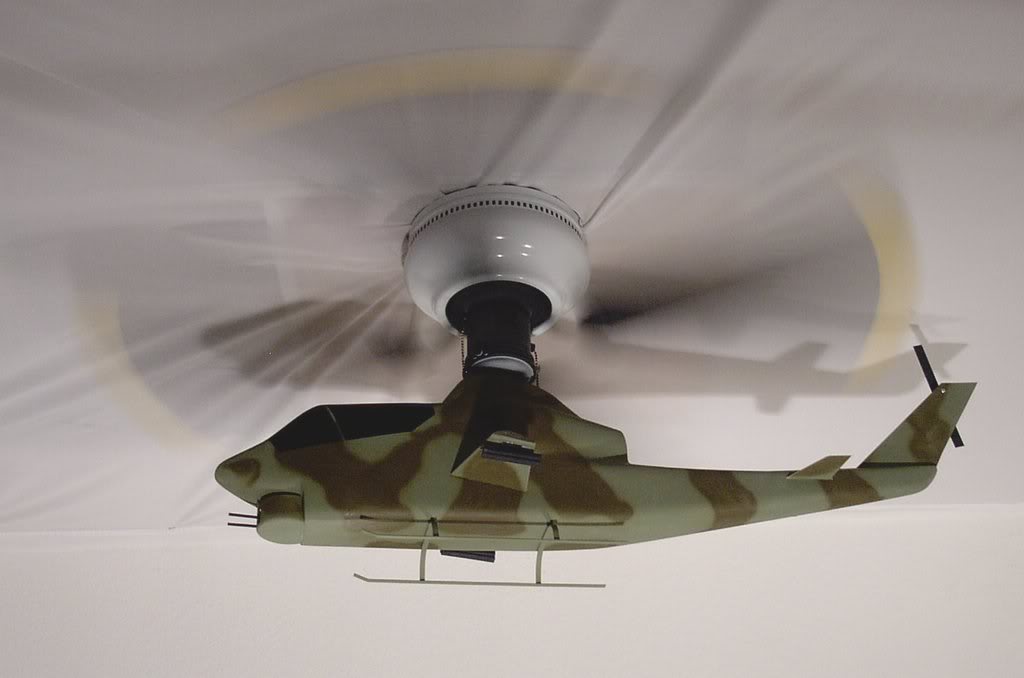 #4 The Helicopter is Coming
The designs of fans are totally different and you can detect various models in the market. There are lamp fans, chandelier fans and many other models. If you are trying to get a one-of –a-kind model of a fan, the helicopter would be a nice idea. Most people are selecting classical versions of the fans and this model of a military grade fan will be something off the standard.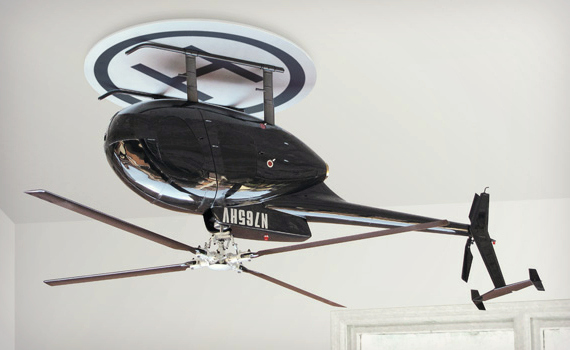 #5 Upside Down
Now you can have your personal landing station for helicopter in your house. This model of WW2 MD 500 helicopter looks as it has just safely returned from a safe evacuation program and has successfully landed on your ceiling. This is definitely an awesome designed fan to add to one's interior.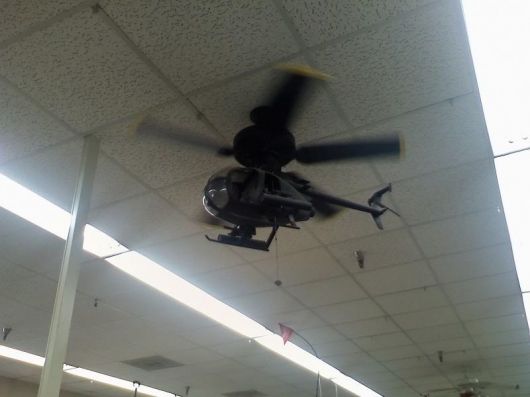 #6 Black Widow is Flying
This model of helicopter is often called a black widow due to its capability to maneuver in extreme conditions and eliminate undesirable elements in hard to access places. Now you can have this model in your room and it will do its job by killing with long blades the hot air that is inside the room.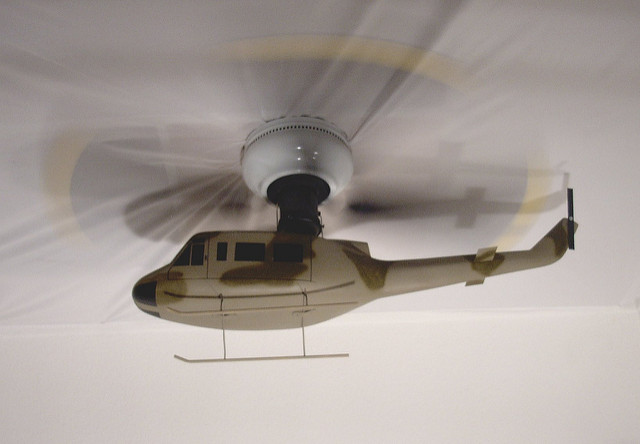 #7 Military Style
The apache's helicopters are considered one of the best aircrafts that were capable to transport the soldiers and ammunitions to the most dangerous hot spots in the world. In comparison to other models, this helicopter has become a real legend and many people will recognize it instantly. Probably, that's why it was selected as a sample for a stylish home fan design.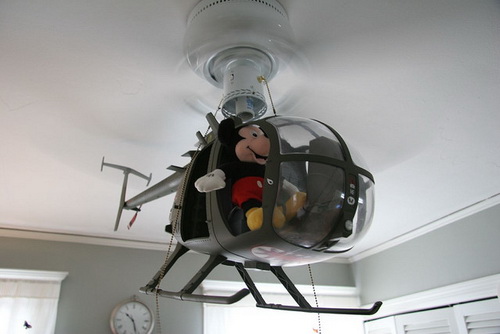 #8 A Place for a Passenger
This is a really big model of a helicopter fan. It was designed in a very realistic and detailed manner. The creators managed to build up a real pilot seat that is now occupied by a famous Disney character. However, this fan is not just a toy, it is a powerful wind generating tool that is similar to the propeller of a real one.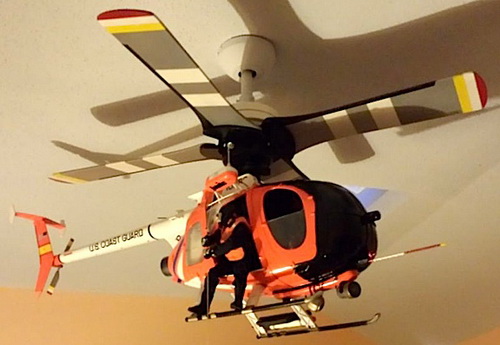 #9 The Sniper is Aiming
This is a model of SWAT helicopter that was designed in action. As you can see flying machine has got not only an elaborate design, but it also has got a sniper that was crafted in a fine manner to make the composition perfect. The blades of the items are extra wide to control large volumes of air and provide the owner with extra fast cooling.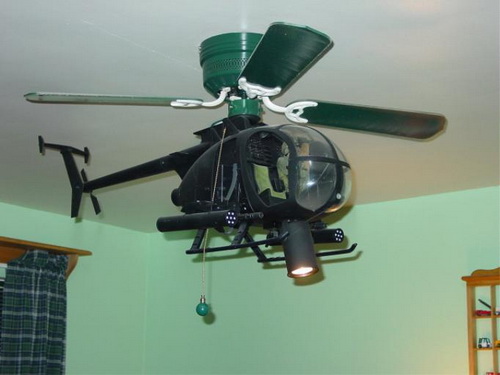 #10 Looking for Something
The projectors are often equipped on the helicopters of lifeguard. In the rainiest and roughest nights, when the waves are deadly, these helicopters roam the skies trying to find if anybody is in danger and it is fully equipped for saving people's lives. The model is a tribute to these machines as the number of people saved with its help is truly uncountable.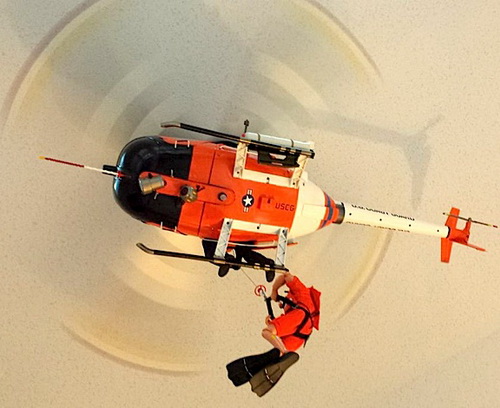 #11 It's Time to Dive
Here you can see a special life guard helicopter that is equipped with ropes and is capable to drag out the drowning people and cargo that is at the verge of sinking. It is made specifically in bright color so that everybody could notice it even in the dark. Placing of such a helicopter model would definitely add some bright spots to your room.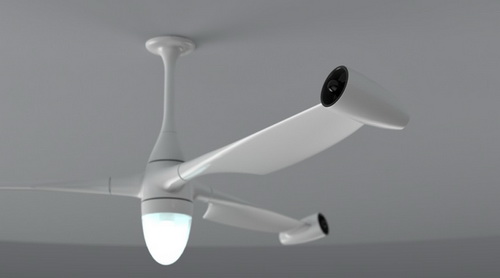 #12 Aerodynamic Fan
This fan was probably inspired with the wings of some modern jets which are capable to develop an immense speed. This fan can also produce an immense amount of cool air in a few minutes. The productiveness of the machine depends on the structure of the blades that do not only rotate, but have also got the engines with additional micro fans for smooth transportation of air all over the room.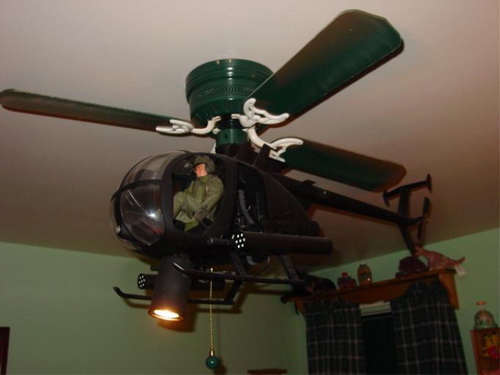 #13 Good Choice for Kid's Rooms
Most of the boys like playing war games. They watch movies, play video games and some have a rich collection of toy soldiers who daily participate in the imaginary battles of your child. If you are considering an awesome present to the nursery of your kid, think about presenting this model of a military helicopter fan. Be sure that it will also participate in the games of your kid.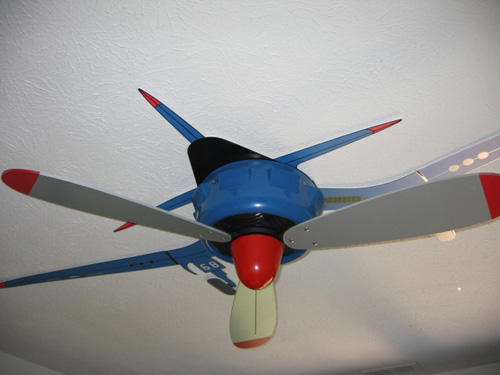 #14 A Piece of a Plane
This is an optical illusion that makes the room look bigger than it is. The fan is designed in a shape of a WW1 plane around which there is a drawn silhouette of a planes haul. This visual maneuver creates a wonderful three dimensional effect that transforms your ceiling into endless sky with a huge plane in it.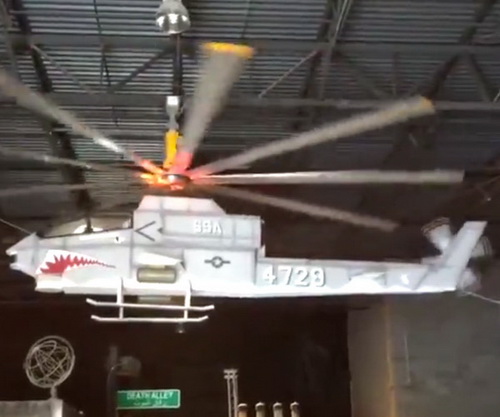 #15 Apache is Coming
Another option of a legendary helicopter is at your disposal. It was richly decorated as a fearsome predator – the shark that demonstrates its razor sharp teeth. The model will look really awesome as a part of a military designed room. This item will not only be a model that will hang on the strings, but a fully functional fan with light and that is really amazing.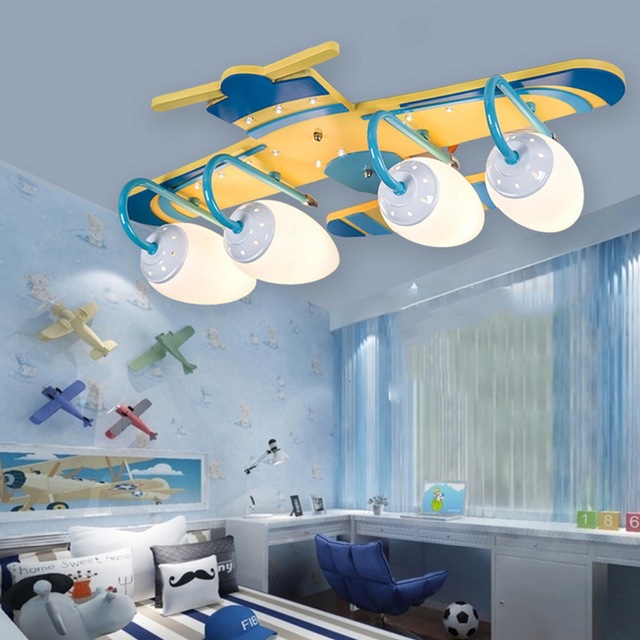 #16 Miraculous Ceiling Fan-Lamp
This airplane inspired model of a fan looks like some magical plane from some fairytale. It has got bright relaxing colors that would be matching a room of a little baby. Moreover, it is equipped with four energy saving lamps so the room won't suffer from the lack of light or fresh air as it will be able to provide you with both.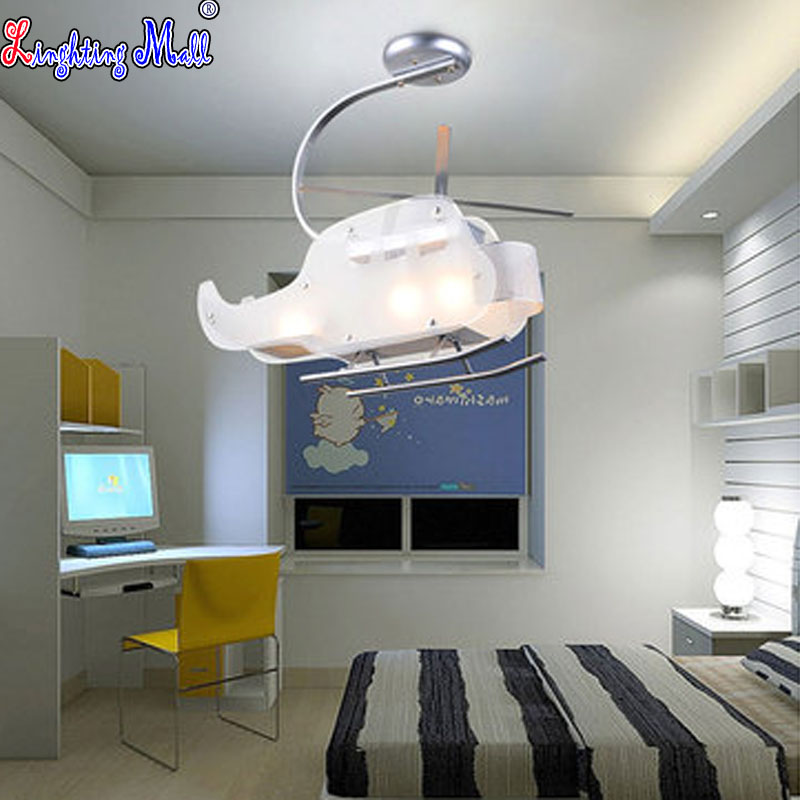 #17 An Open Air Fan Lamp
This white colored model is very effective in terms of light and air production. Regardless of its simple design it becomes amazing when the lights are turned on. It starts radiating with light immediately eliminating all the shadows around. It does not produce too much fresh air, but that will be enough for a child so that it didn't catch cold.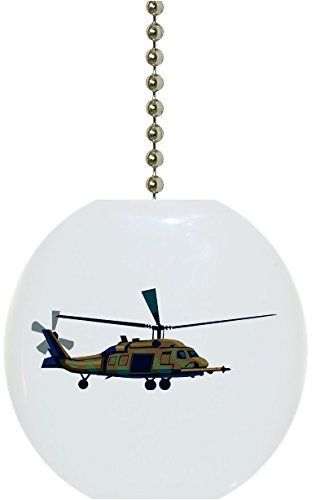 #18 A Chopper Ball
Here's a simple lamp with chopper picture depicted on the white glass. Such lamps are rather popular in use due to their simplicity in design and universal shape. It is possible to install several lamps of this type on the ceiling to create an effective spot light that will be very useful in the household.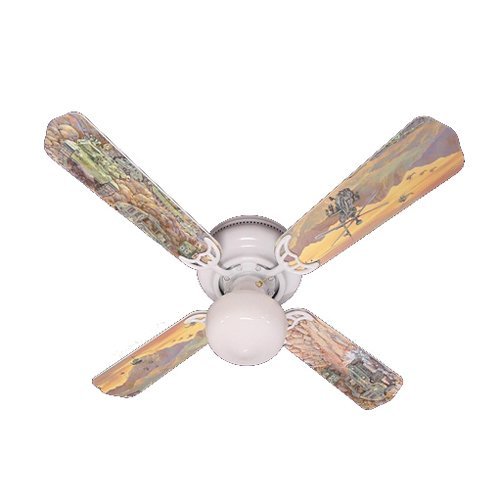 #19 A Dessert Styled Fan
Here's a classic style fan that was redesigned to look different from its predecessors. The acrylic paint is good not only for painting the blades in shiny monochrome color. It is extremely useful when it comes to the creation of whole compositions through an elaborate drawing. This model with a light demonstrates us the pictures of some dessert.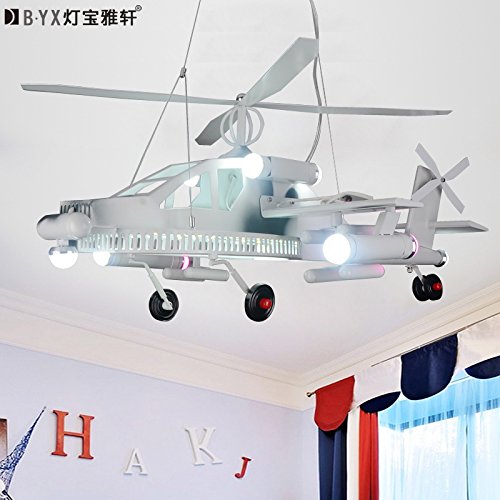 #20 Large Helicopter Model with Lights
Here we can see a fully armed military grade fan. It is not only stylish, but at the same time very effective when it comes to offering some light. It is equipped with six powerful white colored LED lamps that are comfortable for eyes and are 100 times energy effective than the usual ones. Just install this awesome model on your ceiling.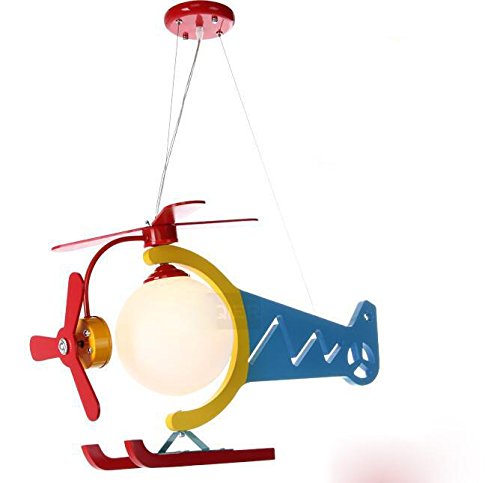 #21 For the Little Ones
This cute toy helicopter fan is created specifically for the babies. In fact, this is a little glass ball with a lamp inside that is covered with a shade in the shape of toy helicopter. Little kids adore watching the things above them as this is currently their only way to explore the world around them. Let this helicopter bring the kid to the world of dreams.
#22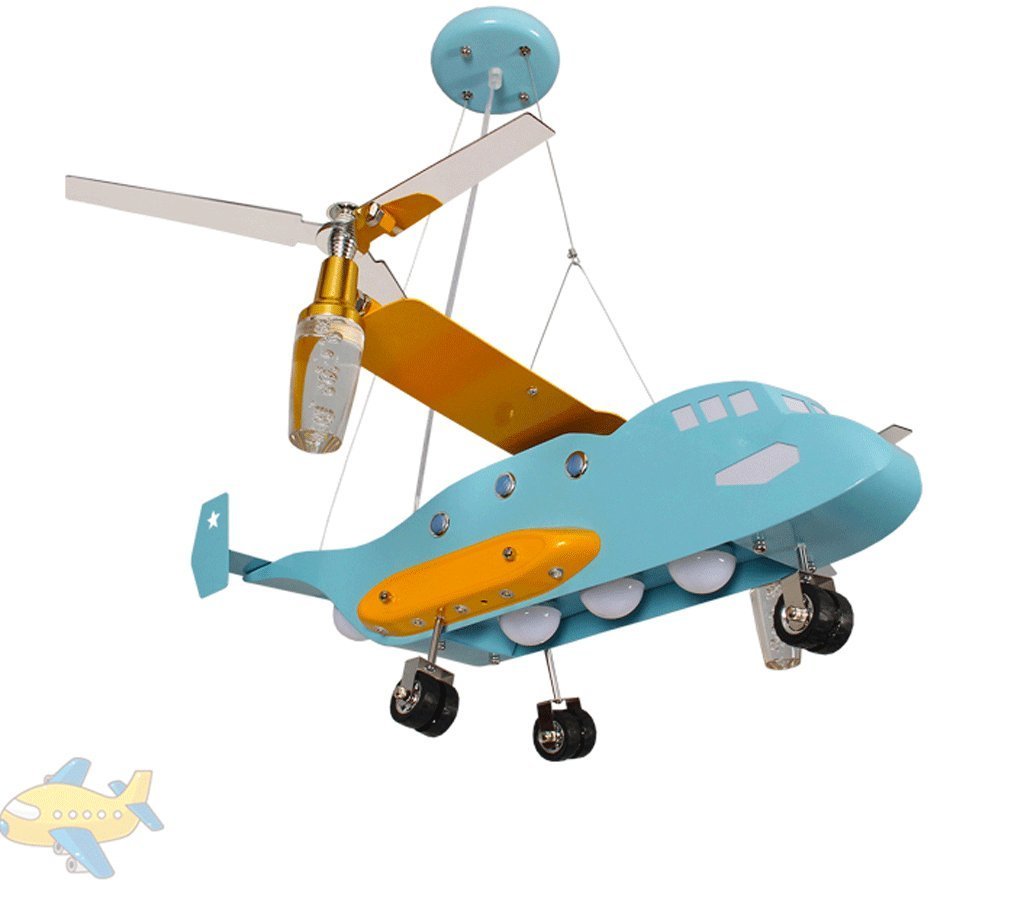 View price and Buy