The 4 Dimmer Switches for Ceiling Fans. Can I use Dimmer Switches with Ceiling Fans?
Dimmer switches are a popular lighting option. They can give any room a sense of ambiance. An additional benefit is the flexibility to have the lighting in any room at a level that is comfortable for everyone.
Can I use Dimmer Switches with Ceiling Fans
Where Dimmer Switches Are Used
Dimmer switches are generally placed in common rooms such as a dining or living room. Most light fixtures used in a common area tend to connect to light fixtures that are only used for light and have no secondary functions or moving parts. Bedrooms are the most common place to find a dimmer switch connected to a ceiling fan rather than a straight-forward light source.
Ceiling Fans Connected to Standard Dimmer Switches
Many times when a ceiling fan is connected to a dimmer, a standard dimmer switch is used. This can become a problem in several ways. Ceiling fans have both a motor and a fan component, making them more complicated than a regular light fixture. A standard dimmer switch, or a single-pole switch, has only one switch, and only the ability to control one element, either fan or lighting.
When a ceiling fan is connected to a standard dimmer, you can control the light level, but damage will be done to the motor. There is also a chance of a fire. Dimmer switches tend to be fairly easy to overload. If you are using the switch to control more than the one thing an overload becomes more likely. If the switch is warm or hot then an overload is about to happen.
Changing From a Dimmer to a Toggle Switch
If you already have a ceiling fan that is connected to a standard dimmer switch, then the easiest fix is to simply take out the dimmer feature and change to a regular toggle switch. Because you disconnected the dimmer switch you will not have the ability to alter the brightness of the light. On the upside, The fixture will no longer be a fire hazard.
Safe Ways to Connect a Dimmer Switch to a Ceiling Fan
If you still want a dimmer function on the light of the ceiling fan, then there are a couple of options to do this safely. Because there is both a lighting and a fan component, these functions need to be controlled separately in order to work safely. Your house may already be wired so that the fan and the light can be controlled by two different switches.
If the wiring is not already in place then you can rewire it so that a toggle switch controls the fan and a dimmer switch controls the lights. You will likely have to hire an electrician to do this due to the complexity, home insurance coverage, or local permit regulations.
The photo below left comes from a fan speed controller – this is what needs to be used on a ceiling fan.  The photo below right comes from a standard dimmer switch, which should not be used to control the motor on a ceiling fan.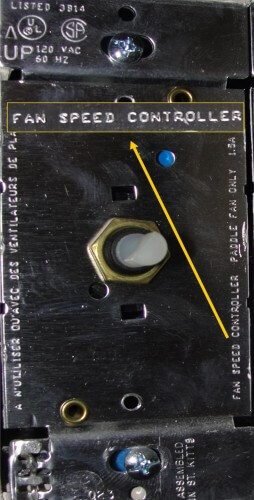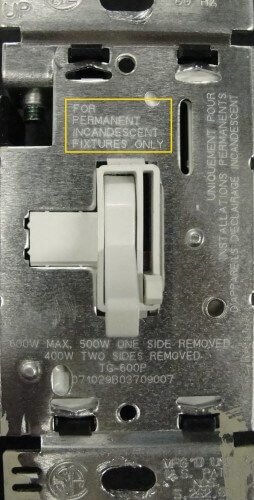 Remote Fan Control Kits
There are kits available that will bypass the need to rewire anything. If you go for this option, then the light will remail wired to the lights only. Instead of connecting to the fan, the switch will control just the lighting portion of the ceiling fan. You can attach the remote device to the exterior of the fan and control that with the remote.
Dimmer switches can be a wonderful addition to any space. The flexibility gained by controlling light levels can help create a mood or provide more comfort. If you chose to use a dimmer switch with a ceiling fan, make sure to weigh your options so that you and your home will stay safe for many years to come.
Best Dimmer Switches for Ceiling Fans
#1 Smart Ceiling Fan Control and Dimmer Light Switch
Sale
TREATLIFE Smart Ceiling Fan Control and Dimmer Light Switch, Neutral Wire Needed, 2.4GHz Single Pole Wi-Fi Fan and Light Switch Combo, Works with Alexa, Google Home and SmartThings, Remote Control
Compatibility: This ceiling fan light switch is not compatible with fans that have a built-in remote control system, exhaust fans, or smart bulbs. Max ceiling fan load of 1.5A (offers 4 fan speed controls), a max light load of 150W dimmable LED/CFL, or 300W incandescent bulbs. Works only with 2.4G Wi-Fi (not 5G) and single-pole (not 3-way) use. Does not work with multiple dimmers on a circuit.
Easy Installation: Requires neutral wire and separate load wires for fan and light - please check your home wiring before purchasing the smart ceiling fan switch(older houses may not have neutral wires). No Hub or canopy module is required. FCC certified. Contact us if you have any problems or questions.
Smart Brightness and Fan Speed Control: Adjust fan speed and dim your lights from anywhere using the Smart Life App or Treatlife App. This 2-in-1 smart fan and light switch combo provide 4 fan speeds with smooth, flicker-free brightness dimming (10%-100%) for increased comfort. Gentle On & Off Lighting for comfortable visual effect.
#2 Lutron Maestro LED+ Fan Control and Dimmer for LEDs
#3 DELIXI White 3 Speed Ceiling Fan Wall Speed Control
DELIXI White 3 Speed Ceiling Fan Wall Speed Control with LED Dimmer Light Switch, 360W Incandescent Load, Single-Pole, 120 Vac, 60 Hz, 2.5 A, White (1 Pack)
【Max Load 】Durability and resilience to withstand hard impacts and heavy force, Dual slide controls, Max ceiling fan load of 2.5A and max light load of (360W incandescent), Compatible with most dimmable LEDs, but there are also incompatible LEDs, make sure LED bulbs are the dimmable type, Mainly suitable for incandescent lamps.
【3 Speeds Fan Control】Vertical slide control fan speed, Easy Shifting, When you switch gears,Will produce a clear sound, clearly telling you that you have switched gears.Provides single pole control of ceiling fans, not for variable type fans or remote controlled
【Added Gear Position Description】One control switch for 3 settings: Variable Speed, OFF, H, M, L.Provides the best dimming performance for dimmable LED bulbs, Up slide LED brighten, down slide light turns dark or off, slider for lights provides for smooth dimming with a noticeable click off when moving slider past the dimmest position
#4 Lutron PD-FSQN-WH Caseta Wireless
Sale
Lutron Caseta Smart Fan Speed Control Switch, Single-Pole, PD-FSQN-WH, White
ELIMINATE PULL CHAINS: Provides control of your ceiling fan right from the wall, choose from 4 fan speeds plus off, for increased comfort
WIRELESS CONTROL: Pair with the Fan Pico remote (PJ2-3BRL-GXX-F01, sold separately) for wireless control from anywhere around your home
MOST CONNECTED: Caseta connects with more leading smart home devices - including Amazon Alexa, Apple Home, the Google Assistant, Ring, Serena shades and Sonos - than any other smart lighting control brand (Caseta Smart Hub required)
#5 Lutron TGFSQ-FH-WH
Sale
View price and Buy